Update 2022-12-24: PFAS contamination may be much more widespread than previously known 2022-10-12.
Hahira, GA, October 18, 2022 — A first-of-its kind study by Waterkeeper Alliance found 83% of the waters tested across the country, and 100% of tested waterways in Georgia and Florida, were contaminated by dangerous PFAS chemicals.
"The PFAS levels we found in the Withlacoochee River were lower than most sites in the U.S., but there should not have been any," said Suwannee Riverkeeper John S. Quarterman. "WWALS is working on ways to do more tests to narrow down likely sources and to see how rain events affect the results."

Figure 11: bigger circles indicate more contamination
The good news: PFAS levels in four test sites on the Withlacoochee River were among the lowest in the study. Still, there are currently no universal, science-based limits on the various PFAS chemicals and their presence is cause for further investigation. For many PFAS chemicals, the EPA has not set a health advisory limit that would give the public a baseline to determine what amount of PFAS is unhealthy in drinking water. In most cases, the EPA is not doing adequate monitoring for these chemicals, which is why these findings are so relevant and important.
The bad news: no PFAS should be there at all, and these forever chemicals do not break down easily, and do tend to accumulate in bodies, including human bodies. The current lack of oversight puts the health and safety of communities and ecosystems across the nation at risk and results in costly cleanup and treatment activities to remove PFAS contamination after it has occurred. This data plainly demonstrates that Congress and EPA must act with urgency to control persistent PFAS contamination across the country.
Here is a Waterkeeper Alliance action alert:
https://waterkeeper.quorum.us/campaign/42950/
The entire report is on the WWALS website.
This groundbreaking new analysis of American waterways sounds the alarm on a PFAS pollution emergency. In a test of 114 waterways from across the country, 83% were found to contain at least one type of PFAS-dangerous per- and polyfluoroalkyl substances that are widely linked to serious public health and environmental impacts. A total of 113 U.S. based Waterkeepers, including Suwannee Riverkeeper, collected samples from 114 waterways across 34 states and the District of Columbia (D.C.). Independent analysis indicates a shocking level of contamination. Waterways in 29 states and D.C. were found to be contaminated by at least one, but most frequently, many revealed the presence of up to 35 different PFAS compounds
"When we began testing waterways for PFAS earlier this year, we knew that our country had a significant PFAS problem, but these findings confirm that was an understatement. This is a widespread public health and environmental crisis that must be addressed immediately by Congress and the U.S. Environmental Protection Agency (EPA). To begin tackling this urgent problem, Congress should start by passing the Clean Water Standards for PFAS Act of 2022, and EPA must prioritize using the funding from the Bipartisan Infrastructure Law to coordinate national monitoring and adopt regulatory standards for PFAS contamination. This report provides the information necessary for federal and state governments to take action and protect the health and safety of our communities," said Marc Yaggi, CEO of Waterkeeper Alliance.
Since at least the 1950s, PFAS have been widely used in manufacturing and are found in many consumer, commercial, and industrial products. Often referred to as "forever chemicals," PFAS do not break down over time. Instead, these dangerous chemicals accumulate in people, wildlife, and the environment. As a result, PFAS have been found in surface water, air, soil, food, and many commercial materials. Scientific studies increasingly link these toxic chemicals to serious health conditions such as cancer, liver and kidney disease, reproductive issues, immunodeficiencies, and hormonal disruptions.
In June, Suwannee Riverkeeper sampled four locations on the Withlacoochee River.

Georgia results: US 41 and Knights Ferry Boat Ramp, Withlacoochee River
Ten different chemicals were found in tests upstream and downstream of Valdosta, at the US 41 (North Valdosta Road) Bridge and at Knights Ferry Boat Ramp. In every case, the numbers were higher downstream than upstream. We do not know the cause, but wastewater treatment plants do not remove PFAS chemicals, which are in everything from Teflon pans to food packaging and stain resistant fabrics and carpets. Knights Ferry is also downstream of Okapilco Creek and the cattle manure runoff in Brooks County.

Florida results: State Line Boat Ramp and Sullivan Launch
Surprisingly, the upstream numbers at State Line Boat Ramp were higher than the downstream numbers at Sullivan Launch, for all seven chemicals detected. In between is Jumping Gully Creek, which drains the wastewater plants at the Packaging Corporation of America (PCA) plant near Clyattville, Georgia. So that's good news for PCA, as well as for river recreation and nearby water wells.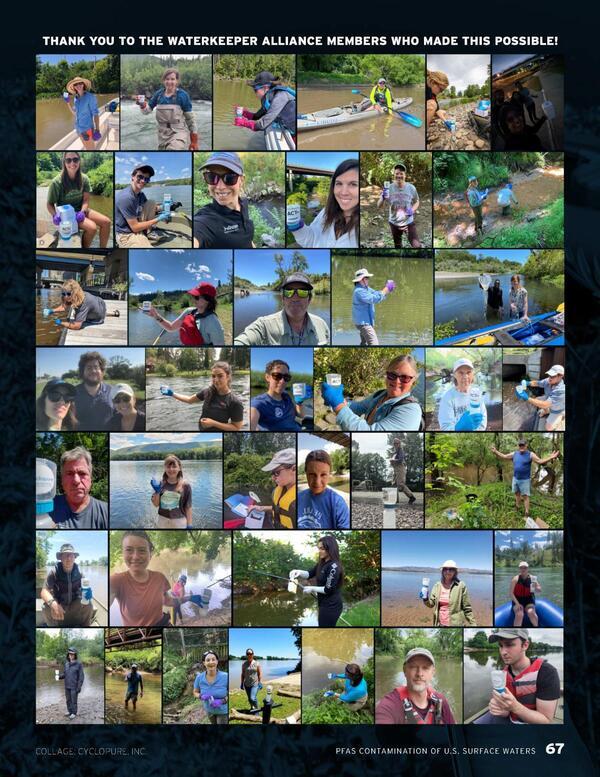 Thank you to the Waterkeeper Alliance Members who made this possible!
Dr. Tom Potter, WWALS Science Committee Chair, is pictured towards the bottom right, at the US 41 Bridge on the Withlacoochee River, when we took the samples on June 30, 2022.

Dr. Tom Potter, WWALS Science Committee Chair, 09:58:16, 30.8932587, -83.3185618
WWALS Watershed Coalition, Inc. (WWALS), is a 501(c)(3) nonprofit educational charity. WWALS advocates for conservation and stewardship of the surface waters and groundwater of the Suwannee River Basin and Estuary, in south Georgia and north Florida, among them the Withlacoochee, Willacoochee, Alapaha, Little, Santa Fe, and Suwannee River watersheds, through education, awareness, environmental monitoring, and citizen activities. Founded in June 2012, WWALS has board members from multiple counties in south Georgia and north Florida, and members from all over the Suwannee River Basin and from farther away. Since December 2016, John S. Quarterman is the Suwannee Riverkeeper®, which is a staff position and a project of WWALS as the member of Waterkeeper® Alliance for the Suwannee River Basin and Estuary.
Contact: John S. Quarterman, Suwannee Riverkeeper
WWALS Watershed Coalition, Inc.
229-242-0102, 850-290-2350
wwalswatershed@gmail.com
www.wwals.net
###
Short Link: