Update 2023-01-12: Suwannee River Chainsaw Cleanup Again 2023-01-28.
This chainsaw cleanup finished well before dark, Suwannee River, Griffis to Fargo 2022-12-29. Thanks, TJ Johnson for leading it, and Shirley Kokidko for getting the wettest.

Griffis, Deadfall, Gauge, Fargo 2022-12-29
The Fargo gauge was about 2.47 feet (93.07′ NAVD88) and the Above Fargo gauge was about 4.93′ (95.93′ NAVD88).
We found one deadfall already cut and we cut another one.
We found three more: one to duck and float under, one to drag under to the left, and one requiring portage. We shall return.
We saw the mysteriously-placed Suwannee River above Fargo Gauge. The GOPRO360 photographed three creeks: Jones (or Tatum) Creek, Sweetwater Creek, and Alligator Creek, or at least those look like creek mouths more or less where USGS thinks they are.
We saw a new-to-us private landing and got pictures of it and the six others between Griffis Fish Camp and Fargo Ramp.
Also the closed bats-in-the-belfry Suwannee River Visitor Center at Fargo.

Map: Griffis Fish Camp to Fargo in the WWALS map of the Suwannee River Water Trail (SRWT).
There are more pictures below.
For more WWALS outings, see:
https://wwals.net/outings/
-jsq, John S. Quarterman, Suwannee RIVERKEEPER®
You can join this fun and work by becoming a WWALS member today!
https://wwals.net/donations/

Sunrise on US 441, just south of Homerville, GA, 07:43:28, 31.0254225, -82.7382977

Vehicles, 08:25:50, 30.6823112, -82.5600485

Left (south) bank, probably between parcels 177 007 and 177 001, both Conservation Fund, 09:45:28, 30.7786896, -82.4654913

Possible private access, left (east) bank, 09:49:17, 30.7772846, -82.4679113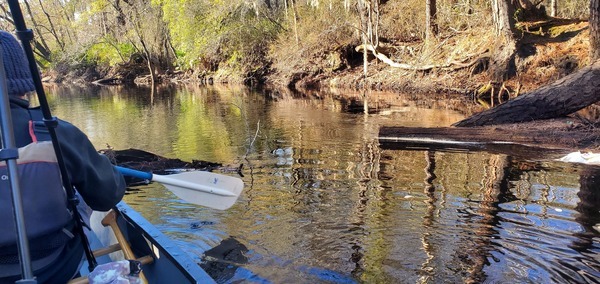 Sawed log, right bank, 09:49:52, 30.7772846, -82.4679113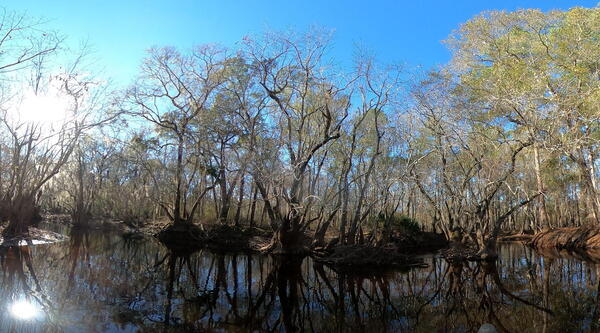 Allen Camp Cutthrough, 10:08:07, 30.7704138, -82.4731744

Log across Allen Camp Cutthrough, 10:09:37, 30.7706669, -82.4737795

Allen Camp Landing, 2022:12:29 10:15:27, 30.7701320, -82.4718257

Sparkly Shirley, 10:22:02, 30.7706241, -82.4744838

Annoying branches, 10:31:27, 30.7707734, -82.4775358

Sport Camp Landing, left (south) bank, 10:43:51, 30.7612805, -82.4820785

Probably not a right bank private landing, 11:10:58, 30.7568204, -82.4899636

Alligator Creek, 11:11:03, 30.7567091, -82.4899273

Long Camp Landing, 11:12:13, 30.7561293, -82.4901316

Possible right bank private landing, 11:19:21, 30.7512770, -82.4931791

Tight spot, 11:19:26, 30.7512770, -82.4931791

Drawdy Mill Landing, left bank, 11:37:25, 30.7410204, -82.4922735

Gnarly roots, 11:50:04, 30.7324996, -82.4969738

Private Palmetto Landing, left bank, 11:54:17, 30.7307753, -82.4979875

Sandy bank, 12:10:05, 30.7228543, -82.5013549

Shirley Kokidko, 12:10:22, 30.7228296, -82.5014286

Sweetwater Creek, 12:12:23, 30.7215388, -82.5028448

Three Steps Landing, 12:25:33, 30.7159880, -82.5099057

Front of chimney at Three Steps Landing, 12:51:22, 30.7150405, -82.5096914

Hog Trap at Three Steps Landing, 12:53:27, 30.7145189, -82.5095566

Log at 2.49′ (93.47′ NAVD88), 14:56:06, 30.7160395, -82.5112911

Duck and float under to the left, 14:59:12, 30.7158583, -82.5130261

Movie: Drag under to the left –Shirley Kokidko (46M), 30.7156114, -82.5160253

Portage Logjam, 15:19:32, 30.7156703, -82.5186389

Possible private landing, right bank, 15:30:18, 30.7158610, -82.5217682

Jones Creek, 15:32:52, 30.7139620, -82.5227910

Reeves Landing, 15:44:58, 30.7083414, -82.5291768

Sexton Landing, 15:48:25, 30.7077127, -82.5319911

Narrow Deadfalls, 15:53:22, 30.7062222, -82.5352477

Suwannee River Above Fargo Guage, 15:57:22, 30.7075004, -82.5388569

Overhanging Branches, 16:21:32, 30.6963242, -82.5523968

Zig-zag Deadfalls, 16:24:02, 30.6949423, -82.5530825

Dragging Log at 2.49′ (93.47′ NAVD88), 16:25:22, 30.6948066, -82.5531258

Norfolk Southern Railroad Bridge, 16:40:37, 30.6842143, -82.5586325

Fargo Ramp with closed Suwannee River Visitor Center, 16:45:11, 30.6822600, -82.5597375
-jsq, John S. Quarterman, Suwannee RIVERKEEPER®
You can join this fun and work by becoming a WWALS member today!
https://wwals.net/donations/
Short Link: