Here's one of the least known landings on the Withlacoochee River: Futchs Ferry Landing.
It's in Berrien County, Georgia, southwest of Ray City, on Futchs Ferry Road, which becomes Old Coffee Road on the Cook County side of the river.. It's downstream from Youngs Mill Creek Landing (2.37 miles) and upstream from Hagan Bridge Landing (10.58 miles), on the Withlacoochee and Little River Water Trail (WLRWT).

Entrance, Withlacoochee River: Futchs Ferry Landing 2023-03-21
That first step, sharp right off the graveled area, is a bit rough.
Do not go through the gate: that's posted private property.

Entrance off of Futchs Ferry Road, 2023:03:21 17:11:49, 31.0987079, -83.3132363
The rest of the entrance road on the road right of way under the power line is not too bad.

Looking SW towards the river, 2023:03:21 17:15:00, 31.0967037, -83.3156267
There's this one big pothole. With free mattress.

Mattress and pothole, 2023:03:21 17:15:57, 31.0963861, -83.3159366
There's gravel down by the river.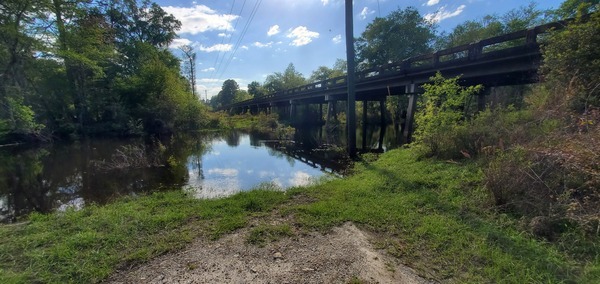 Withlacoochee River, 2023:03:21 17:16:29, 31.0963861, -83.3159366

Futchs Ferry Bridge, 2023:03:21 17:16:46, 31.0963861, -83.3159366
-jsq, John S. Quarterman, Suwannee RIVERKEEPER®
You can help with clean, swimmable, fishable, drinkable, water in the 10,000-square-mile Suwannee River Basin in Florida and Georgia by becoming a WWALS member today!
https://wwals.net/donations/
Short Link: