Update 20 September 2014: Now with a lunch stop at Chris and Deanna's house! Bring your own lunch or snacks, but the Mericles have picnic tables and bathrooms. Chris reports the Withlacoochee is high enough that the shoals are no problem, and the weather report says clear all day tomorrow. See also his report on FERC and Sabal Trail's recent visit to this same area and what Sabal Trail wrote to FERC the next day.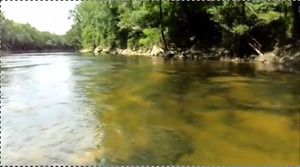 Sabal Trail may be thinking of moving their pipeline, but WWALS is still padding past the original location 10AM Sunday September 21st. All are invited to come see for themselves the springs, shoals, and sinkholes that we value more highly than pipeline profit for a company from Houston. Join us for a fine day on two of our fabulous southern blackwater rivers: the Withlacoochee River and the Suwannee River, in Hamilton and Suwannee Counties, Florida.
The meeting place is the CR 143 Boat Ramp on the Withlacoochee River near Jennings, Florida. For directions, please see the earlier post about this outing.
This event is FREE! All we ask is Continue reading →