Update 20 September 2014: Now with a lunch stop at Chris and Deanna's house! Bring your own lunch or snacks, but the Mericles have picnic tables and bathrooms. Chris reports the Withlacoochee is high enough that the shoals are no problem, and the weather report says clear all day tomorrow. See also his report on FERC and Sabal Trail's recent visit to this same area and what Sabal Trail wrote to FERC the next day.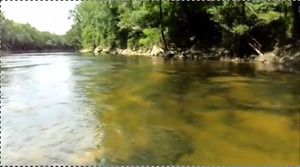 Sabal Trail may be thinking of moving their pipeline, but WWALS is still padding past the original location 10AM Sunday September 21st. All are invited to come see for themselves the springs, shoals, and sinkholes that we value more highly than pipeline profit for a company from Houston. Join us for a fine day on two of our fabulous southern blackwater rivers: the Withlacoochee River and the Suwannee River, in Hamilton and Suwannee Counties, Florida.
The meeting place is the CR 143 Boat Ramp on the Withlacoochee River near Jennings, Florida. For directions, please see the earlier post about this outing.
This event is FREE! All we ask is that you are a current member of WWALS Watershed Coalition. If not, its easy to join online today at /donations/. You do not have to be a member to come on this outing. If you like the experience, we recommend that you join to support the efforts of WWALS. WWALS is an advocacy organization working for watershed conservation of the Willacoochee, Withlacoochee, Alapaha, and Little River Systems watershed in south Georgia and north Florida through awareness, environmental monitoring, and citizen advocacy.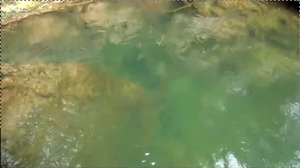 See Chris Mericle's excellent video of this section of the Withlacoochee River for what you can expect to paddle by on this outing.
You don't have to know anything about the pipeline to enjoy this outing.
But a lot is going on with the Sabal Trail pipeline. After Chris Mericle and others presented at the Hamilton County Commission, that Commission called a special meeting and passed Resolution No. 14-10 19 August 2014. Then the Federal Energy Regulatory Commission (FERC) mentioned Chris and Deanna Mericle by name in its directions to Sabal Trail of 26 August 2014 saying the pipeline company should examine routes that don't cross the Withlacoochee River in Hamilton County. And that same day of FERC's letter to Sabal Trail, Duke Energy announced it wasn't going to build its new natural gas plants at its Suwannee Plant. The same plant Duke was previously going to fuel from the Sabal Trail pipeline at the route we're going to see. Maybe Sabal Trail will move it and maybe it won't; meanwhile we'll go see it for ourselves.
Meanwhile in Georgia, way back in 1999, the USGS warned that the Withlacoochee River already leaks into Floridan Aquifer which is why Valdosta dug its new wells 400 feet deep, and as Dr. Don Thieme warned WWALS about at VSU in October 2013. See also Cook County, GA ground water depletion —USGS.
FERC also directed Sabal Trail to look at four alternatives to its current route past Albany, Georgia, and three of them go right down I-75 through the middle of WWALS watersheds. Two of them (Alternative 1 and Alternative 2 run down I-75 through Tifton, Adel, Hahira, and Valdosta on their way past The Villages in Florida. One (Alternative 4) starts way up at Americus and runs through Cordele and Ashburn before continuing like those other two down I-75. All three of those routes go through the same fragile karst limestone that contains our drinking water in the Floridan Aquifer. FERC did direct Sabal Trail to look into how blasting or drilling under a river could trigger sinkholes, and which sinkhole databases Sabal Trail has consulted, a depth limit for investigations in sinkhole-prone areas where subsidence could occur. It's not clear that pipeline would be safe anywhere in WWALS watersheds, especially when solar power is faster, cheaper, and far safer.
These are among the reasons WWALS signed a letter to county commissions opposing the Sabal Trail pipeline that was written by a citizen of Suwannee County. You can sign it, too. If you want still more reasons why, see the WWALS op-ed which has so far appeared in three newspapers (Moultrie Observer, Ocala StarBanner, and Gainesville Sun).
Meanwhile, come join us on the Withlacoochee and Suwannee Rivers Sept. 21st!
-jsq
Short Link: