FOR IMMEDIATE RELEASE
Hahira, Georgia, November 17, 2020 — Once again, the Okefenokee Swamp features in the Georgia Water Coalition Dirty Dozen, "the worst offenses to Georgia's water." The Swamp and the Suwannee and St. Marys Rivers and the Floridan Aquifer are still threatened by a strip mine, but this time only Georgia can stop it, with your help.

Great Blue Heron, Suwannee River, Okefenokee Swamp, TPM mine site
Contact: This Okefenokee item was submitted by Suwannee Riverkeeper John S. Quarterman (229-242-0102, contact@suwanneeriverkeeper.org) and Georgia River Network Executive Director Rena Ann Peck, (404-395-6250, rena@garivers.org).
They also recently observed the mine site that threatens our ecosystems and drinking water for private profit.

Photo: John S. Quarterman, TPM mine site with ONWR on left
They met again that same weekend on the Suwannee River in the Okefenokee Swamp with forty paddlers, experiencing the fragile natural beauty that makes the Okefenokee National Wildlife Refuge a great economic benefit to both Georgia and Florida.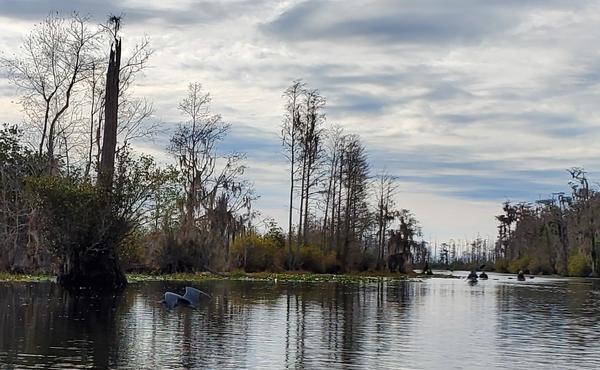 Photo: John S. Quarterman, Great Blue Heron flying, Suwannee River, Okefenokee Swamp, 2019-12-07
The entire text of the Okefenokee Dirty Dozen item is below. Also below is how you can help.
This year's Dirty Dozen report includes the following: Continue reading →