Veteran boater Bret Wagenhorst asked:
Is there a defined "rainy season" on the Alapaha? I have seen the water high in December, March, July, and once even in September.
Good question!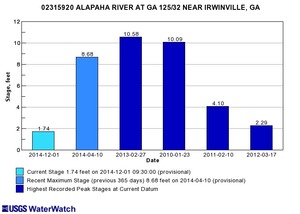 Looking at the record high water levels for the gauges, they're all in April, March, February, or January.
Also, the only January one is for Irwinville, the farthest upstream, which also had its highest ever in February with that January high only slightly lower.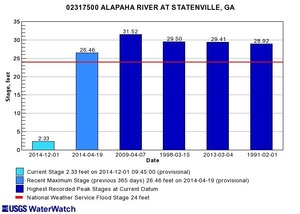 Downstream, all the highest highs at Alapaha, Statenville, and Jennings were in April, mostly in 2009 (passed only by one 1928 for Alapaha, GA).
So apparently the rainiest season for the Alapaha River is late winter and early spring.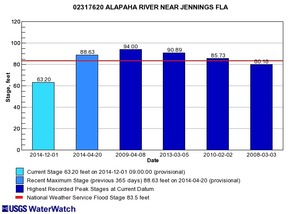 Here's a graph of the last 365 days of levels at Irwinville, Alapaha (US 82), and Statenville. It shows February, March, and April as the highest level months in the 14-year median daily statistics (the thick lines).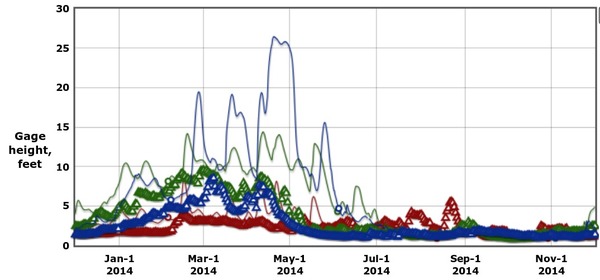 Height in feet at Irwinville, Alapaha, and Statenville, GA, 365 days to 1 Dec 2014;
Source: USGS National Water Information System
Notice also that 25-foot spike at Statenville in late April 2014 and early May 2014, and a late-August 2014 spike at Irwinville.
Not all years are the same. Let's look at record-flood year 2009: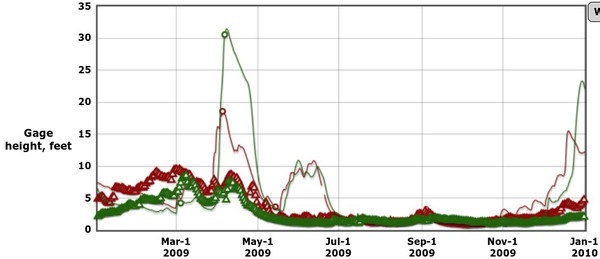 The record highs of more than 23 feet 4 April 2014 at Alapaha, GA and more than 30 feet 6 April 2014 at Statenville, GA were in the usual rainy season. But water levels in June 2014 were higher than the usual annual highs, and in late December 2014 they were even higher (though not as high as April 2014).
To draw that 2009 graph I had to omit Irwinville, because that gauge wasn't added until October 2009, perhaps not coincidentally after the record floods of April 2009.
Let's add Irwinville back in for 2010, and we see that December 2009 surge continued into January and recurred in February 2010: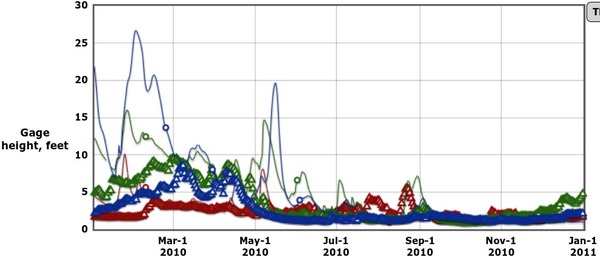 Rainy 2010
With the opposite in 2011, a drought year that hardly ever saw water levels higher than the 14-year median: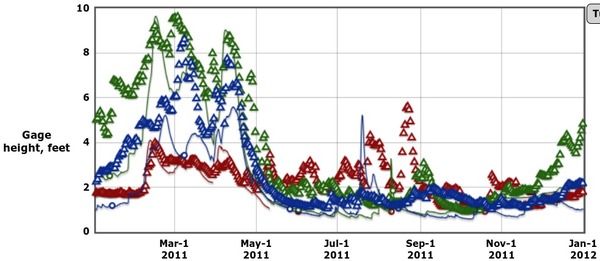 Drought 2011
And 2012 was another drought year, which even caused a pine beetle infestation:

Drought 2012
Last year, 2013 was a rainy year, with spikes in March, but almost as high levels in July and August, plus lower spikes in June, September, and December.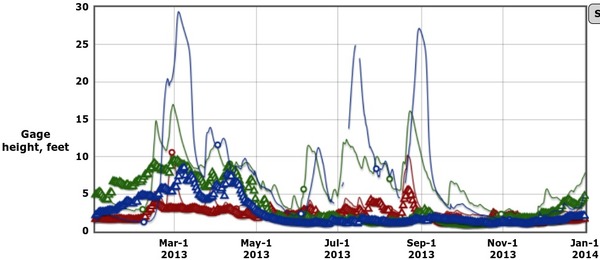 Rainy 2013
Plus river levels are not the same on different parts of the river at the same time. They're not even a smooth progression of water rising first upstream and then downstream. For example, in the past week water levels peaked at Irwinville Wednesday, at Statenville Thursday, yet levels are still rising at Alapaha, GA: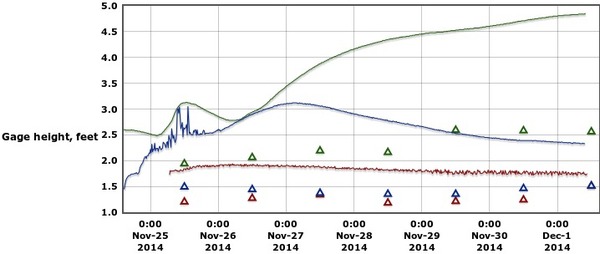 Week of 2014-11-25
The rain doesn't fall the same all along the coastal plain. Apparently it's been rainier around Alapaha, GA lately than it has been upstream or down.
So maybe on a water levels page should say something like:
The rainiest season on the Alapaha River is February to April, when all the record highs at all the gauges have occured.

However, veteran boaters have also seen the Alapaha high in December, July, and even September, so it's best to check levels and weather reports first whenever you go.
-jsq
Short Link: