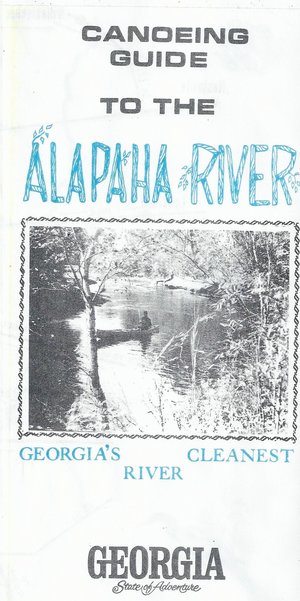 Here's a different guide to the Alapaha River from the one WWALS previously received; this one is courtesy of John Leonard, Executive Director of the Southern Georgia Regional Commission (SGRC). The Alapaha River Water Trail WWALS is currently developing is merely a continuation of this more than three decade old Alapaha Canoe Trail.
John Leonard said that when he started at the predecessor of the SGRC in 1980, calls came in frequently asking about water levels on the Alapaha River. It took him a while to realize why: the Alapaha River Trail had been written up in Southern Living! He did not have a copy of that article. Who would like to help find that one?
Meanwhile, he kept a folder of related materials all this time, and 34 years later he donated copies to WWALS. This is just the first of several documents scanned from those materials.
John Leonard said as far as he knew, the Alapaha River Trail materials were originally organized by a former employee who had left before 1980: James H. Rainwater. This corroborates what Sandy Sanders of Lakeland told us. More people probably know Rainwater as the former Mayor of Valdosta who died of a heart attack aged 62 while campaigning for a fifth four-year term in 2003.
I'd like to thank John Leonard for keeping these materials all these years, and to thank posthumously former Mayor Rainwater for creating them in the first place.
Front Cover:
Canoeing Guide to the Alapaha River
Georgia's Cleanest River
Georgia
State of Adventure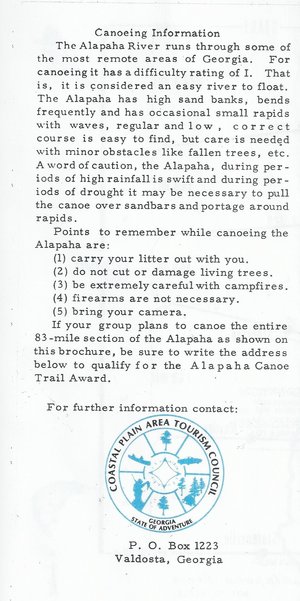 Back Cover:
Canoeing Information

The Alapaha River runs through some of the most remote areas of Georgia. For canoeing it has adifficulty rating of I. That is, it is considered an easy river to float. [The Alapaha has high sand banks, bends frequently and has occasional small rapids with waves, regular and low, correct course is easy to find, but care is needed with minor obstacles like fallen trees, etc. A word of caution, the Alapaha, during periods of high rainfall is swift and during periods of drought it may be necessary to pull the canoe over sandbars and portage around rapids.

Points to remember while canoeing the Alapaha are:

carry your litter out with you.
do not cut or damage living trees.
be extremely careful with campfires.
firearms are not necessary.
bring your camera.

If your group plans to canoe the entire 83—mile section of the Alapaha as shown on this brochure, be sure to write the address below to qualify for the Alapaha Canoe Trail Award.

For further information contact:

Coastal Plain Area Tourism Council
Georgia
State of Adventure
P.O. Box 1223
Valdosta, Georgia
That Coastal Plain Area Tourism Council doesn't exist anymore. Soon its successor organization SGRC may have updated Alapaha River Water Trail materials, but meanwhile please contact WWALS for any questions.
Front and back cover: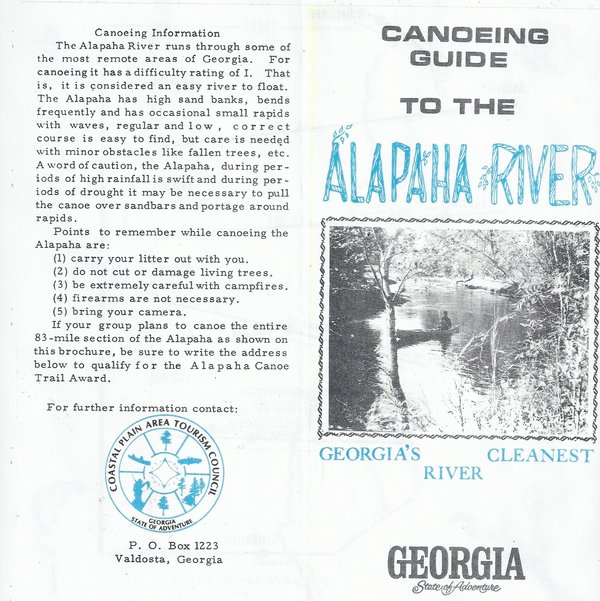 The map inside, like that in the 1970s Alapaha River Trail Canoe Guide, shows a trail from Willacoochee to Statenville. The update Alapaha River Water Trail WWALS is working on incorporates this same area, plus it starts upstream at US 82 and continues downstream into Hamilton County, Florida, all the way to the Suwannee River. Also, since 1979 kayaks are not just for Inuit anymore; lots of people use them around here in addition to canoes.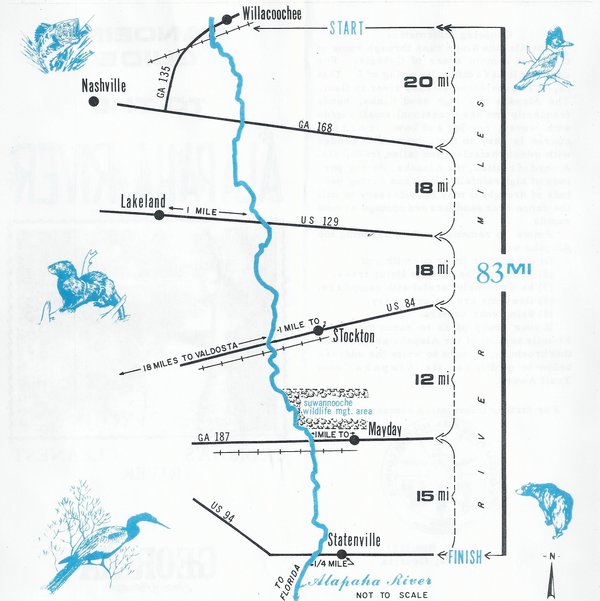 Finally, PDF in case you want to print it.
-jsq
Short Link: