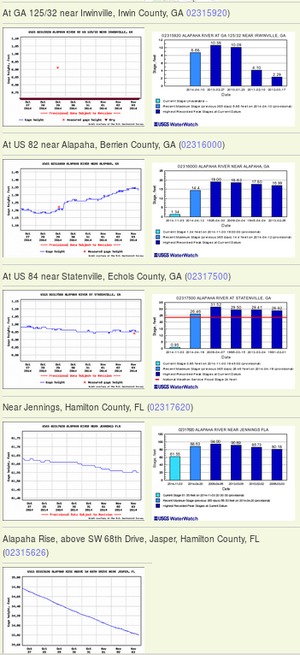 Update 2016-12-23: graphs from water.weather.gov.
Update 2016-05-31: See sea level gage reports.
Update 2015-04-28: Added flood stages and tentative highest safe and lowest boatable water levels, both above the charts for each gauge and in a summary table. If you have data, please let us know.
Here are water level gauges for the Alapaha River in Georgia and Florida, north to south. The graphs should show the current levels at this time, in feet, plus for most of the gauges a bar graph of selected historic levels.
This is a draft of a concept for use with the Alapaha River Water Trail. See also Alapaha River Rainy Season.
It is also a companion to the similar set of graphs for the Withlacoochee and Little Rivers.
See below for the current Alapaha River water level graphs. Continue reading →