Pope Francis makes a religious, ethical, humane, scientific, and practical case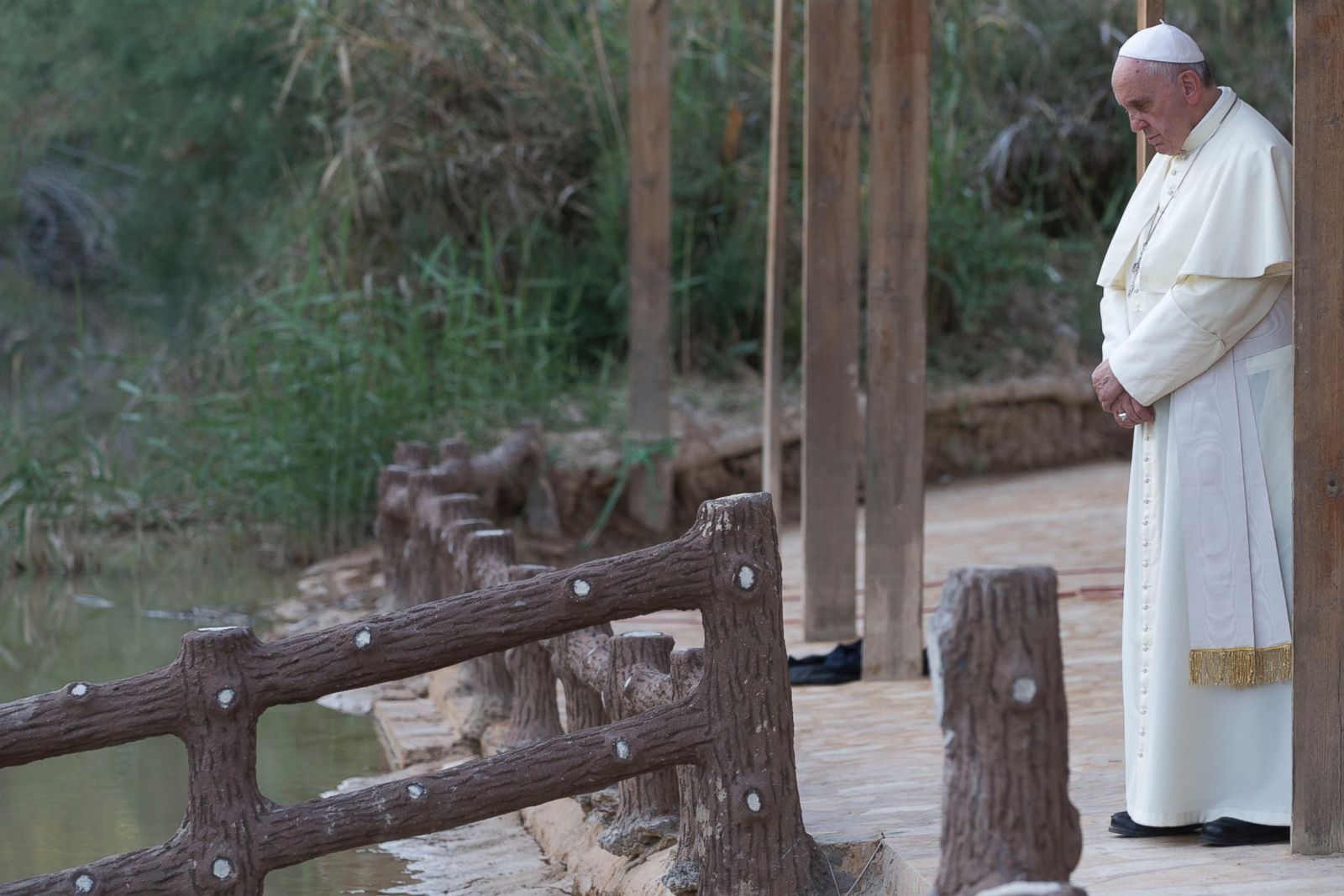 for stewardship of this earth and its waters, with moral and ethical bases for "the choices which determine our behaviour". His case does not require any reader to be Catholic or Christian, as the Pope integrates his faith with the science of an integral ecology. You don't have to agree with everything he wrote (I don't) to agree with the gist of it, in the words of Dr. Martin Luther King Jr.:
"all life is interrelated"
Pope Francis' letter to the world is long but well worth reading in full, and these excerpts I hope will encourage everyone to do that.
ENCYCLICAL LETTER LAUDATO SI' OF THE HOLY FATHER FRANCIS ON CARE FOR OUR COMMON HOME, 18 June 2015, Vatican City.
This sister [earth] now cries out to us because of the harm we have inflicted on her by our irresponsible use and abuse of the goods with which God has endowed her. We have come to see ourselves as her lords and masters, entitled to plunder her at will. The violence present in our hearts, wounded by sin, is also reflected in the symptoms of sickness evident in the soil, in the water, in the air and in all forms of life. This is why the earth herself, burdened and laid waste, is among the most abandoned and maltreated of our poor; she "groans in travail" (Rom 8:22). We have forgotten that we ourselves are dust of the earth (cf. Gen 2:7); our very bodies are made up of her elements, we breathe her air and we receive life and refreshment from her waters.
After reviewing precedents from a long series of his papal predecessors, Pope Francis turns to his namesake Saint Francis of Assisi:
Francis helps us to see that an integral ecology calls for openness to categories which transcend the language of mathematics and biology, and take us to the heart of what it is to be human. Just as happens when we fall in love with someone, whenever he would gaze at the sun, the moon or the smallest of animals, he burst into song, drawing all other creatures into his praise. He communed with all creation, even preaching to the flowers, inviting them "to praise the Lord, just as if they were endowed with reason".[19] His response to the world around him was so much more than intellectual appreciation or economic calculus, for to him each and every creature was a sister united to him by bonds of affection. That is why he felt called to care for all that exists. His disciple Saint Bonaventure tells us that, "from a reflection on the primary source of all things, filled with even more abundant piety, he would call creatures, no matter how small, by the name of 'brother' or 'sister'.[20] Such a conviction cannot be written off as naive romanticism, for it affects the choices which determine our behaviour. If we approach nature and the environment without this openness to awe and wonder, if we no longer speak the language of fraternity and beauty in our relationship with the world, our attitude will be that of masters, consumers, ruthless exploiters, unable to set limits on their immediate needs. By contrast, if we feel intimately united with all that exists, then sobriety and care will well up spontaneously. The poverty and austerity of Saint Francis were no mere veneer of asceticism, but something much more radical: a refusal to turn reality into an object simply to be used and controlled.
What is more, Saint Francis, faithful to Scripture, invites us to see nature as a magnificent book in which God speaks to us and grants us a glimpse of his infinite beauty and goodness. "Through the greatness and the beauty of creatures one comes to know by analogy their maker" (Wis 13:5); indeed, "his eternal power and divinity have been made known through his works since the creation of the world" (Rom 1:20). For this reason, Francis asked that part of the friary garden always be left untouched, so that wild flowers and herbs could grow there, and those who saw them could raise their minds to God, the Creator of such beauty.[21] Rather than a problem to be solved, the world is a joyful mystery to be contemplated with gladness and praise.
Pope Francis didn't mention, but permit me to add, Dr. Martin Luther King, Jr.:
But one day we must come to see that an edifice which produces beggars needs restructuring. It means that questions must be raised. You see, my friends, when you deal with this, you begin to ask the question, "Who owns the oil?" You begin to ask the question, "Who owns the iron ore?" You begin to ask the question, "Why is it that people have to pay water bills in a world that is two thirds water?" These are questions that must be asked.
—Where do we go from here? 16 August 1967, SCLC Conference, Atlanta, Georgia

The cities are gasping in polluted air and enduring contaminated water.
—Conscience for Change, Massey Lectures, November 1967, CBC Radio.

It really boils down to this: that all life is interrelated. We are caught in an inescapable network of mutuality, tied into a single garment of destiny. Whatever affects one directly, affects all indirectly.
— Christmas Sermon on Peace, Ebenezer Baptist Church, and 24 December 1967 CBC Radio.

We've played havoc with the destiny of the world…. Somewhere we must make it clear that we are concerned about the survival of the world….
"A Proper Sense of Priorities, 6 February 1968, Washington, DC.
Pope Francis picks up where MLK left off fifty years ago:
I urgently appeal, then, for a new dialogue about how we are shaping the future of our planet. We need a conversation which includes everyone, since the environmental challenge we are undergoing, and its human roots, concern and affect us all. The worldwide ecological movement has already made considerable progress and led to the establishment of numerous organizations committed to raising awareness of these challenges. Regrettably, many efforts to seek concrete solutions to the environmental crisis have proved ineffective, not only because of powerful opposition but also because of a more general lack of interest. Obstructionist attitudes, even on the part of believers, can range from denial of the problem to indifference, nonchalant resignation or blind confidence in technical solutions. We require a new and universal solidarity. As the bishops of Southern Africa have stated: "Everyone's talents and involvement are needed to redress the damage caused by human abuse of God's creation". [22] All of us can cooperate as instruments of God for the care of creation, each according to his or her own culture, experience, involvements and talents.
He addresses climate change head on and points to the obvious solutions:
The climate is a common good, belonging to all and meant for all. At the global level, it is a complex system linked to many of the essential conditions for human life. A very solid scientific consensus indicates that we are presently witnessing a disturbing warming of the climatic system. In recent decades this warming has been accompanied by a constant rise in the sea level and, it would appear, by an increase of extreme weather events, even if a scientifically determinable cause cannot be assigned to each particular phenomenon. Humanity is called to recognize the need for changes of lifestyle, production and consumption, in order to combat this warming or at least the human causes which produce or aggravate it. It is true that there are other factors (such as volcanic activity, variations in the earth's orbit and axis, the solar cycle), yet a number of scientific studies indicate that most global warming in recent decades is due to the great concentration of greenhouse gases (carbon dioxide, methane, nitrogen oxides and others) released mainly as a result of human activity. Concentrated in the atmosphere, these gases do not allow the warmth of the sun's rays reflected by the earth to be dispersed in space. The problem is aggravated by a model of development based on the intensive use of fossil fuels, which is at the heart of the worldwide energy system. Another determining factor has been an increase in changed uses of the soil, principally deforestation for agricultural purposes….
Many of those who possess more resources and economic or political power seem mostly to be concerned with masking the problems or concealing their symptoms, simply making efforts to reduce some of the negative impacts of climate change. However, many of these symptoms indicate that such effects will continue to worsen if we continue with current models of production and consumption. There is an urgent need to develop policies so that, in the next few years, the emission of carbon dioxide and other highly polluting gases can be drastically reduced, for example, substituting for fossil fuels and developing sources of renewable energy. Worldwide there is minimal access to clean and renewable energy. There is still a need to develop adequate storage technologies. Some countries have made considerable progress, although it is far from constituting a significant proportion. Investments have also been made in means of production and transportation which consume less energy and require fewer raw materials, as well as in methods of construction and renovating buildings which improve their energy efficiency. But these good practices are still far from widespread.
And he gets specific about water:
Fresh drinking water is an issue of primary importance, since it is indispensable for human life and for supporting terrestrial and aquatic ecosystems. Sources of fresh water are necessary for health care, agriculture and industry. Water supplies used to be relatively constant, but now in many places demand exceeds the sustainable supply, with dramatic consequences in the short and long term. Large cities dependent on significant supplies of water have experienced periods of shortage, and at critical moments these have not always been administered with sufficient oversight and impartiality. Water poverty especially affects Africa where large sectors of the population have no access to safe drinking water or experience droughts which impede agricultural production. Some countries have areas rich in water while others endure drastic scarcity.
Around here we don't have many shortages of drinking water, but we sure do have droughts and 700-year floods.
One particularly serious problem is the quality of water available to the poor. Every day, unsafe water results in many deaths and the spread of water-related diseases, including those caused by microorganisms and chemical substances. Dysentery and cholera, linked to inadequate hygiene and water supplies, are a significant cause of suffering and of infant mortality. Underground water sources in many places are threatened by the pollution produced in certain mining, farming and industrial activities, especially in countries lacking adequate regulation or controls. It is not only a question of industrial waste. Detergents and chemical products, commonly used in many places of the world, continue to pour into our rivers, lakes and seas.
For example the Withlacoochee River leaking into the Floridan Aquifer causing Valdosta's water wells to have to be double deep, or an invading pipeline from Houston, Texas risking other sinkhole leaks elsewhere. Or a nearby wastewater treatment plant overflowing into the Withlacoochee River and related problems, which Valdosta is spending $300 million fixing. And we still don't know, on the poor south and east sides of town, how many Valdosta overflows into Knights Creek and the Alapaha River watershed? Or sewage bubbling out of yards in Quitman.
Even as the quality of available water is constantly diminishing, in some places there is a growing tendency, despite its scarcity, to privatize this resource, turning it into a commodity subject to the laws of the market. Yet access to safe drinkable water is a basic and universal human right, since it is essential to human survival and, as such, is a condition for the exercise of other human rights. Our world has a grave social debt towards the poor who lack access to drinking water, because they are denied the right to a life consistent with their inalienable dignity. This debt can be paid partly by an increase in funding to provide clean water and sanitary services among the poor. But water continues to be wasted, not only in the developed world but also in developing countries which possess it in abundance. This shows that the problem of water is partly an educational and cultural issue, since there is little awareness of the seriousness of such behaviour within a context of great inequality.
At Madison Blue Spring, Nestle pumps water out of the Floridan Aquifer, in a privatization deal of questionable background.
Conserving animal and plant species and dealing with invasive ones matters:
It is not enough, however, to think of different species merely as potential "resources" to be exploited, while overlooking the fact that they have value in themselves. Each year sees the disappearance of thousands of plant and animal species which we will never know, which our children will never see, because they have been lost for ever. The great majority become extinct for reasons related to human activity. Because of us, thousands of species will no longer give glory to God by their very existence, nor convey their message to us. We have no such right.
It may well disturb us to learn of the extinction of mammals or birds, since they are more visible. But the good functioning of ecosystems also requires fungi, algae, worms, insects, reptiles and an innumerable variety of microorganisms. Some less numerous species, although generally unseen, nonetheless play a critical role in maintaining the equilibrium of a particular place. Human beings must intervene when a geosystem reaches a critical state. But nowadays, such intervention in nature has become more and more frequent. As a consequence, serious problems arise, leading to further interventions; human activity becomes ubiquitous, with all the risks which this entails. Often a vicious circle results, as human intervention to resolve a problem further aggravates the situation. For example, many birds and insects which disappear due to synthetic agrotoxins are helpful for agriculture: their disappearance will have to be compensated for by yet other techniques which may well prove harmful. We must be grateful for the praiseworthy efforts being made by scientists and engineers dedicated to finding solutions to man-made problems. But a sober look at our world shows that the degree of human intervention, often in the service of business interests and consumerism, is actually making our earth less rich and beautiful, ever more limited and grey, even as technological advances and consumer goods continue to abound limitlessly. We seem to think that we can substitute an irreplaceable and irretrievable beauty with something which we have created ourselves.
In assessing the environmental impact of any project, concern is usually shown for its effects on soil, water and air, yet few careful studies are made of its impact on biodiversity, as if the loss of species or animals and plant groups were of little importance. Highways, new plantations, the fencing-off of certain areas, the damming of water sources, and similar developments, crowd out natural habitats and, at times, break them up in such a way that animal populations can no longer migrate or roam freely. As a result, some species face extinction. Alternatives exist which at least lessen the impact of these projects, like the creation of biological corridors, but few countries demonstrate such concern and foresight. Frequently, when certain species are exploited commercially, little attention is paid to studying their reproductive patterns in order to prevent their depletion and the consequent imbalance of the ecosystem.
Caring for ecosystems demands far-sightedness, since no one looking for quick and easy profit is truly interested in their preservation. But the cost of the damage caused by such selfish lack of concern is much greater than the economic benefits to be obtained. Where certain species are destroyed or seriously harmed, the values involved are incalculable. We can be silent witnesses to terrible injustices if we think that we can obtain significant benefits by making the rest of humanity, present and future, pay the extremely high costs of environmental deterioration.
Far-sightedness and an ability to connect the dots:
The human environment and the natural environment deteriorate together; we cannot adequately combat environmental degradation unless we attend to causes related to human and social degradation….
…Today, however, we have to realize that a true ecological approach always becomes a social approach; it must integrate questions of justice in debates on the environment, so as to hear both the cry of the earth and the cry of the poor.
And it is everyone's problem and everyone's opportunity:
The natural environment is a collective good, the patrimony of all humanity and the responsibility of everyone….

When we speak of the "environment", what we really mean is a relationship existing between nature and the society which lives in it. Nature cannot be regarded as something separate from ourselves or as a mere setting in which we live. We are part of nature, included in it and thus in constant interaction with it. Recognizing the reasons why a given area is polluted requires a study of the workings of society, its economy, its behaviour patterns, and the ways it grasps reality. Given the scale of change, it is no longer possible to find a specific, discrete answer for each part of the problem. It is essential to seek comprehensive solutions which consider the interactions within natural systems themselves and with social systems. We are faced not with two separate crises, one environmental and the other social, but rather with one complex crisis which is both social and environmental. Strategies for a solution demand an integrated approach to combating poverty, restoring dignity to the excluded, and at the same time protecting nature.
Maybe climate and environment will be OK for your lifetime. But what about your children and grandchildren?
The notion of the common good also extends to future generations. The global economic crises have made painfully obvious the detrimental effects of disregarding our common destiny, which cannot exclude those who come after us. We can no longer speak of sustainable development apart from intergenerational solidarity. Once we start to think about the kind of world we are leaving to future generations, we look at things differently; we realize that the world is a gift which we have freely received and must share with others. Since the world has been given to us, we can no longer view reality in a purely utilitarian way, in which efficiency and productivity are entirely geared to our individual benefit. Intergenerational solidarity is not optional, but rather a basic question of justice, since the world we have received also belongs to those who will follow us. The Portuguese bishops have called upon us to acknowledge this obligation of justice: "The environment is part of a logic of receptivity. It is on loan to each generation, which must then hand it on to the next".[124] An integral ecology is marked by this broader vision.

The urgent challenge to protect our common home includes a concern to bring the whole human family together to seek a sustainable and integral development, for we know that things can change. The Creator does not abandon us; he never forsakes his loving plan or repents of having created us. Humanity still has the ability to work together in building our common home. Here I want to recognize, encourage and thank all those striving in countless ways to guarantee the protection of the home which we share. Particular appreciation is owed to those who tirelessly seek to resolve the tragic effects of environmental degradation on the lives of the world's poorest. Young people demand change. They wonder how anyone can claim to be building a better future without thinking of the environmental crisis and the sufferings of the excluded.
The time to act is now, and the place is here.
Pope Francis spells out one thing that must be done:
We know that technology based on the use of highly polluting fossil fuels — especially coal, but also oil and, to a lesser degree, gas — needs to be progressively replaced without delay.
He is a bit behind the times in thinking about renewable energy, which is actually ready right now to replace fossil fuels. But he's right that we need to get on with it, to get rid of mercury in our rivers, excess carbon dioxide in our air, and any excuse for environmentally destructive and hazardous fracked methane pipelines. As Pope Francis writes:
In the face of possible risks to the environment which may affect the common good now and in the future, decisions must be made "based on a comparison of the risks and benefits foreseen for the various possible alternatives".[131] This is especially the case when a project may lead to a greater use of natural resources, higher levels of emission or discharge, an increase of refuse, or significant changes to the landscape, the habitats of protected species or public spaces. Some projects, if insufficiently studied, can profoundly affect the quality of life of an area due to very different factors such as unforeseen noise pollution, the shrinking of visual horizons, the loss of cultural values, or the effects of nuclear energy use. The culture of consumerism, which prioritizes short-term gain and private interest, can make it easy to rubber-stamp authorizations or to conceal information.
In any discussion about a proposed venture, a number of questions need to be asked in order to discern whether or not it will contribute to genuine integral development. What will it accomplish? Why? Where? When? How? For whom? What are the risks? What are the costs? Who will pay those costs and how? In this discernment, some questions must have higher priority. For example, we know that water is a scarce and indispensable resource and a fundamental right which conditions the exercise of other human rights. This indisputable fact overrides any other assessment of environmental impact on a region.
We don't need to profit a few executives in Houston at the expense of our local lands and waters. And costs saved by renewable energy (directly and in better health) will more than pay for the transition.
If working on energy is not your cup of tea, there are many other things you can do.
Not everyone is called to engage directly in political life. Society is also enriched by a countless array of organizations which work to promote the common good and to defend the environment, whether natural or urban. Some, for example, show concern for a public place (a building, a fountain, an abandoned monument, a landscape, a square), and strive to protect, restore, improve or beautify it as something belonging to everyone.
Something like an Alapaha River Water Trail, and soon the Withlacoochee River Water Trail. Come see our free-flowing blackwater rivers beneath exotic subtropical vegetation with abundant wildlife on the frequent WWALS outings. There's nothing like being immersed in the heart of our local ecology to grow a desire to conserve it.
This post is my personal opinion, not that of WWALS.
What do you think?
-jsq
Short Link: