National news notes Florida doesn't want DOAH to listen to EPA about Sabal Trail, after WWALS asked DOAH to do so.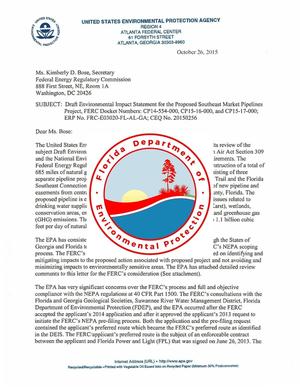 Bruce Ritchie, POLITICO Florida, 25 November 2015, Scott administration helped keep scathing EPA pipeline report out of legal challenge,
TALLAHASSEE — Gov. Rick Scott's top environmental agency helped block a scathing federal report outlining environmental concerns from being submitted as part of a challenge to a controversial natural gas pipeline that would run across some of Florida's most "environmentally sensitive areas."

The Sabal Trail pipeline, a joint venture of Spectra Energy, Duke Energy and Florida Power & Light Co.'s parent company, would extend 515 miles from central Alabama to Osceola County. The project, which covers more than 260 miles in Florida, faces a legal challenge to a state permit in Florida from an environmental group named the WWALS Watershed Coalition.

On Oct. 26, the U.S. Environmental Protection Agency wrote to the Federal Energy Regulatory Commission, saying it had "very significant concerns" about the process of choosing a route because of the threat of pollution to the Floridan Aquifer and the impact on conservation areas.

Four days later, the WWALS Watershed Coalition asked Administrative Law Judge Bram D.E. Canter to take judicial notice of the EPA objections.

But the Florida Department of Environmental Protection joined Sabal Trail Transmission, LLC in objecting, and Canter refused the request.

A spokeswoman for the DEP, which is overseen by Scott's office, was twice asked whether the permit should be re-evaluated in light of the EPA comments. Each time, she answered with a statement that neither acknowledged nor addressed the EPA concerns.

John Quarterman, president of the WWALS Watershed Coalition, told POLITICO Florida that the permit never should not be issued because of concerns about the project. WWALS refers to the Withlacoochee, Willacoochee, Alapaha, Little, and Upper Suwannee River watersheds in south Georgia and north Florida.

"It would be nice if they [DEP officials] decided on their own to not issue the permit," Quaterman said. "I can't say I'd be exactly holding my breath for that to happen."
The article traces the FPL history of this project back to 2009, notes recent opposition in Georgia, and quotes more detail of the recent EPA interactions, including this:
A Sabal Transmission LLC spokeswoman said the company now is coordinating concerns with state and federal agencies and is not considering changing the proposed project or route.

Spokeswoman Andrea Grover also pointed to the company's Nov. 9 response to the Federal Energy Regulatory Commission that addresses the EPA letter and other comments, while adding, "Sabal Trail remains on target to begin construction (in the) second quarter next year."
So the usual: Spectra isn't listening. As for on target, we shall see. Even if FERC issues a permit, the pipeline still can't be built without the DEP permit, or the GA-EPD air quality permit for the Albany, GA compressor station, or the U.S. Army Corps of Engineers permit, among others.
The article concludes with Sabal Trail's assertions that nobody can question its alleged need for the pipeline.
Do you think profit for Spectra and FPL and Duke is excuse for them taking your land, drilling under your rivers, or risking your drinking water or taxes to fix their leaks or explosions?
-jsq
You can join this fun and work by becoming a WWALS member today!
Short Link: