"We see no reason to risk local citizens' property, or taxes, or their drinking water,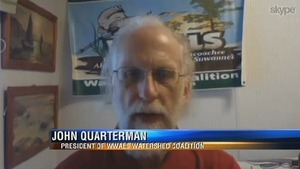 or any part of the ecology for a profit for a company from some other state," on WTXL in Florida's state capital, Tallahassee, yesterday.
Brittany Kleinpeter, WTXL, Tallahassee, Florida, 14 December 2015, Environmental Group is Not Surprised by Judge's Decision,
TALLAHASSEE, Fla. (WTXL)—A judge rules in favor the a pipeline that would extend across Alabama, Georgia, and Florida.

The environmental group, WWAL[S] Watershed Coalition, challenged the Sabal trail pipeline project, claiming that the Department of Environmental Protection did not do due diligence in researching the environmental impact. In a 23 page ruling, a judge ruled against the group, recommending that the DEP move forward with granting permits for the project.
They said WWALS had decided to appeal; actually I said we were continuing to consider our options for an appeal. I did say, as they reported, that we were filing a Motion to Vacate the judge's Order. It turns out actually we're going to file exceptions to the Order, per advice of our legal counsel, William R. Wohlsifer, Esq. and his colleague Leighanne Boone, Esq., of Tallahassee.
WTXL ended by uncritically quoting the vastly inflated job estimates from Sabal Trail's website. Let's not forget that there are more U.S. solar jobs than in coal or oil and gas extraction.
See you at the Suwannee Board of County Commissioners meeting 6PM tonight, 218 Parshley Street Southwest, Live Oak, Florida 32064.
-jsq
You can join this fun and work by becoming a WWALS member today!
Short Link: