Please join us for a documentary about property rights and the environment vs. pipelines (PDF; facebook event; meetup event). Yes, FERC has issued certificates for Sabal Trail, but the fight is not over.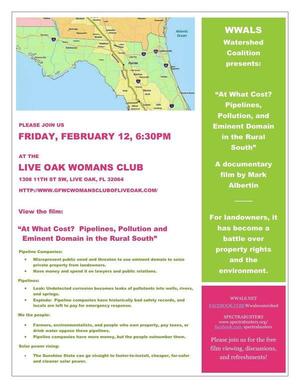 When: 6:30 PM Friday February 12th
Where: Live Oak Womans Club,
1308 11TH St SW, Live Oak, FL 32064
What: View the film:
"At What Cost? Pipelines, Pollution and Eminent Domain in the Rural South"
A documentary film by Mark Albertin
Video Trailer
Thanks: to Push Back the Pipeline for getting this movie made
This film is about the Kinder Morgan petroleum products Palmetto Pipeline proposed across coastal Georgia to Jacksonville, but the issues are the same for Spectra Energy's proposed fracked methane Sabal Trail pipeline from Alabama through southwest Georgia and Florida, across WWALS' Okapilco Creek, Withlacoochee River, and Suwannee River, as well as other the Chattahoochee, Flint, and Ochlockonee Rivers in Georgia, and the Santa Fe and the other Withlacoochee River in Florida. Thanks to SpectraBusters and all the other opponents of the Sabal Trail pipeline.
Pipeline Companies:
Misrepresent public need and threaten to use eminent domain to seize private property from landowners.
Have money and spend it on lawyers and public relations.
Pipelines:
Leak: Undetected corrosion becomes leaks of pollutants into wells, rivers, and springs.
Explode: Pipeline companies have historically bad safety records, and locals are left to pay for emergency response.
We the people:
Farmers, environmentalists, and people who own property, pay taxes, or drink water oppose these pipelines.
Pipeline companies have more money, but the people outnumber them.
Solar power rising:
The Sunshine State can go straight to faster-to-install, cheaper, far-safer and cleaner solar power.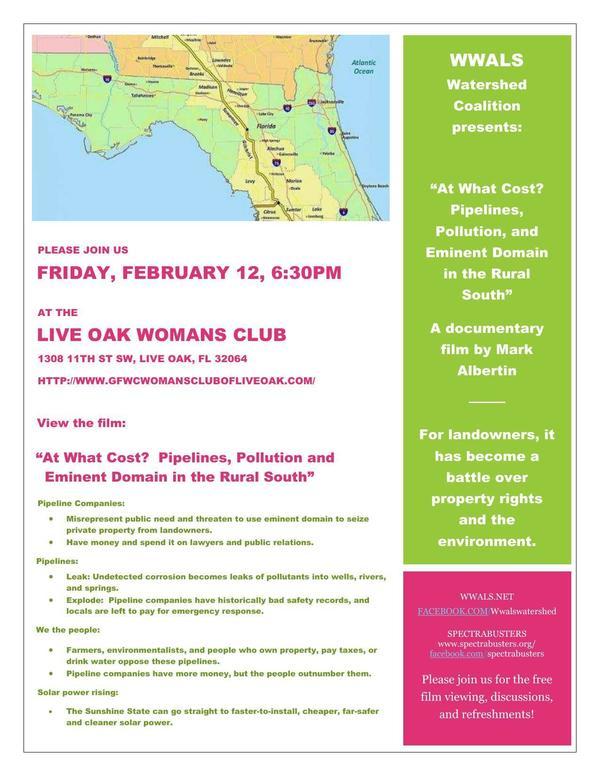 You can join this fun and work by becoming a WWALS member today!
Short Link: