Update 2016-02-21: Actually it took 6 hours. Here are some pictures.
The water is high and fast, so expert paddlers only, arrive by 8AM at GA 135 (Atkinson County side), and be ready so we can shuttle quickly and get on the Alapaha River as soon as possible.
It's a long way and we need to be off the river before dark. Berrien County Sheriff, game warden, and emergency response have all been advised of this trip, but expert paddlers only, please. As always, bring personal flotation devices, warm layers of clothes, drinking water, food, and a change of dry clothes. There is no good place to take out before the end point, so be prepared to paddle all day.
The USGS Gauge at Alapaha, GA shows 9.41 feet this morning, which is a good level. The Statenville gauge shows 17.32, which while well below flood level is also well above our usual recommended high of 9 feet. That Statenville gauge is quite a few river miles (56 miles) below our takeout point at GA 168, so the main bulk of rainfall in the river has apparently already moved downstream. But the water is very high and very fast. You will come up on any deadfalls or overhanging limbs quite quickly. Expert paddlers only. There are many other outings and events coming up that are much better suited for other paddlers.
Continuing our exploration of the entire Alapaha River Water Trail,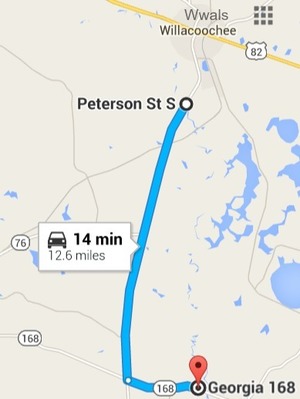 we're into the longer stretches, including this one.
When: 8AM Saturday 20 February 2016
Put In: GA 135, MILE 106.5, Atkinson County side, 2.8 miles south of Willacoochee, GA, Atkinson County.
Take Out: GA 168 (Berrien Beach), MILE 88.24, N side of GA 168, west side of Alapaha River; float downstream under the bridge to the sand beaches, Berrien County
Duration: 18.25 miles. This paddle could take as long as 9-10 hrs.
Shuttle: Probably more than 30 minutes due to distance.
End time: Around 6PM. Yes, really all day.
Responsible party: Chris Mericle
This outing is Free! But we encourage you to join WWALS today to support our fun outings and important work: https://wwals.net/donations/. Continue reading →