You never know on our blackwater rivers in south Georgia and north Florida. The danger! The thrill of the rapids!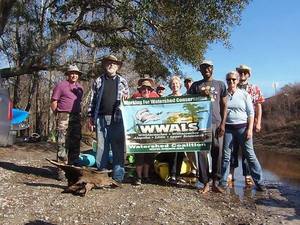 OK, it was actually more like paddling on a lake with a current. The hardest part was when the wind picked up against us a few times. Sometimes we heard what sounded like rapids, but it was just flotsam lodged against oak trees.
But that's the point: you really never know until you're on the water, and on a trip like this with no good takeout until the end of the 18.25 miles, being prepared it much better than not.
The current did make for a fast trip. We were on the water heading downstream by 8:55, and we were out of the water taking pictures by 3:45, so less than six hours on the water, including a half hour lunch stop.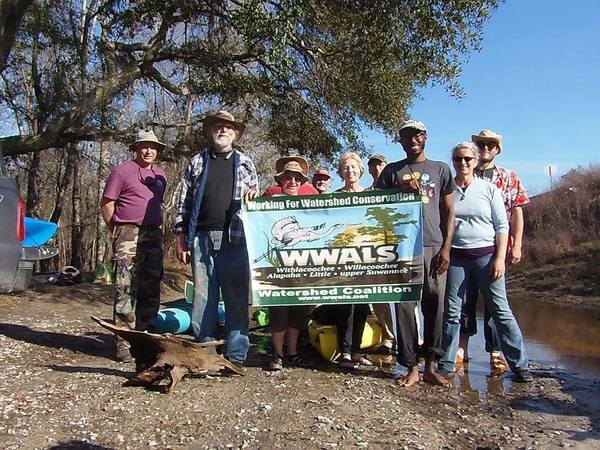 The ten paddlers in nine boats had a fine time, even though the water level actually went up on the Alapaha, GA gauge while we were paddling, above the 9.41 feet of the previous day to about 9.6 at 8AM to 9.7 feet when we took out.
On the Statenville gauge, from the previous day's 17.32 to about 15.5 when we started to about 14.5 feet when we finished. All those levels of Saturday 20 February 2016 turn out to be excellent for paddling the Alapaha River from GA 135 to GA 168.
Paddlers saw a great blue heron, a hawk, lots of ducks, many buzzards, and a wasp nest. Many pines, mostly loblolly, cedars, oaks, and other native species. Very few if any invasive species.
In the last announcement before the paddle, I emphasized some of the usual:
As I noted, I also alerted the Berrien County Sheriff's office, emergency response, and game warden to the trip.
Here are some more things remarked on during this trip:
Flashlight. May not seem necessary during the day, but what if we were still paddling after dark?
Whistle, in case you get into trouble out of sight of the others.
First aid kit. Two boats had one, but need to be sure somebody does.
One paddler had indigestion, yet nobody had thought to bring antacids.
Toilet paper. Might seem obvious….
Here are the the safety and etiquette points from the ARWT brochure.
31.2357960, -83.0458908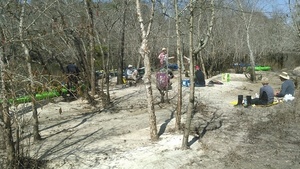 Gretchen posted many more pictures on facebook. Bret Wagenhorst posted many pictures on facebook.
Gretchen's before and after WWALS banner pictures, and a bunch of pictures I took, are below. Click on any small picture for a bigger one. Many of them also have GPS coordinates with links to a map.
There are lots more outings and events coming up, including the Water Trail Workshop at VSU next weekend.
-jsq
You can join this fun and work by becoming a WWALS member today!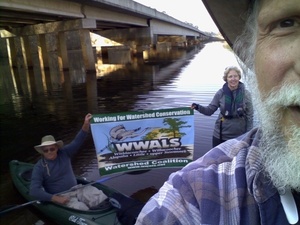 Banner selfie with Dan Coleman and Shirley Kokidko, GA 135 31.3036118, -83.0529327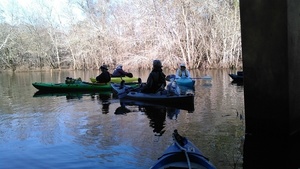 Heading out in early morning light 31.3036499, -83.0529327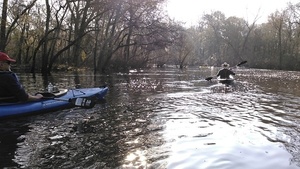 High and fast 31.3015518, -83.0532379

Smooth under the oak arches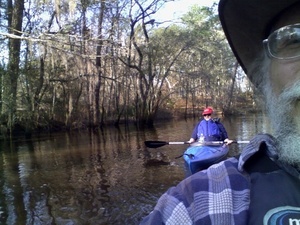 Tom Potter 31.2824917, -83.0462799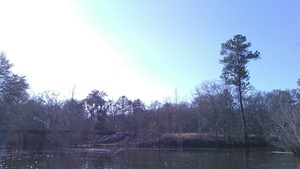 Railroad bridge abutment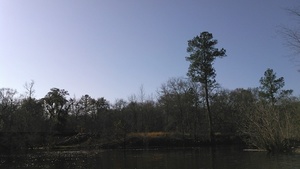 RR abutment 31.2916736, -83.0462799

Railroad bridge 31.2900562, -83.0480423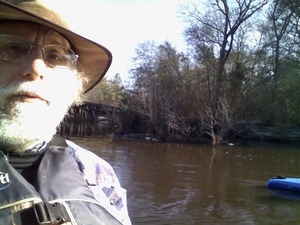 Blurry RR bridge 31.2896614, -83.0481338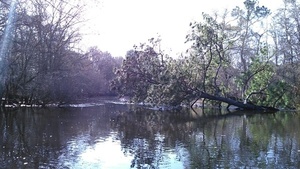 Sideways pine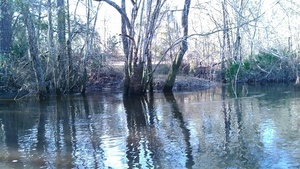 Private Ramp off of Riverside Road 31.2824917, -83.0462799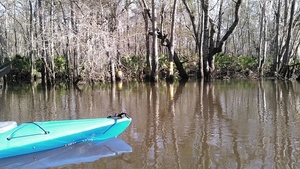 Palmettos 31.2823582, -83.0450744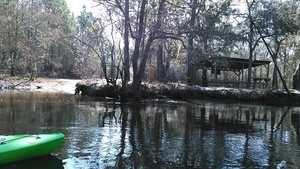 Shelter at Unnamed Road, 2.4 miles S of CR 38 on Coffee Road from 31.2668171, -83.0378647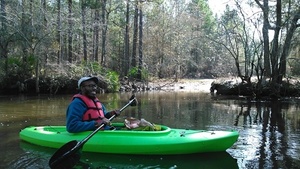 Lee Kiley at Unnamed Road, 2.4 miles S of CR 38 on Coffee Road from 31.2668171, -83.0378647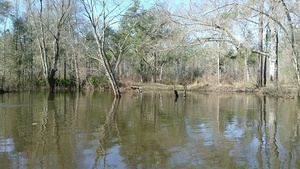 Private access with water pipe 31.2651062, -83.0420685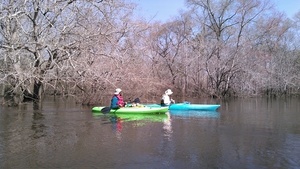 Lee Kiley and Bret Wagenhorst inspect a tree 31.2529030, -83.0417557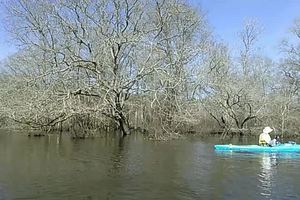 Movie: Bret Wagenhorst paddling (1.7M) 31.2528782, -83.0416717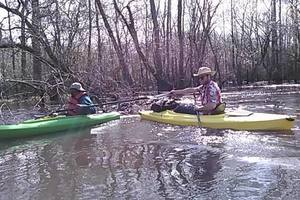 Movie: Driftwood boarding (4.0M) 31.2528782, -83.0416717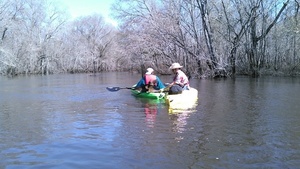 Driftwood ahoy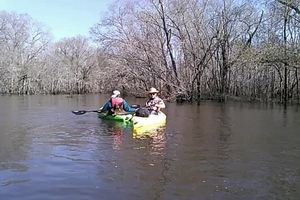 Movie: Driftwood, just down hill from chicken houses, Turkey Ridge Road (1.3M) 31.2515087, -83.0419846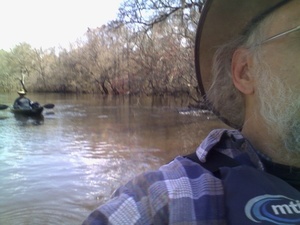 About 500 feet n. of Riverside Church 31.2418022, -83.0474472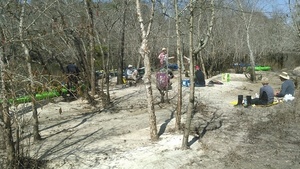 Lunch break, s. of Riverside Church, near McCranie North Road 31.2357960, -83.0458908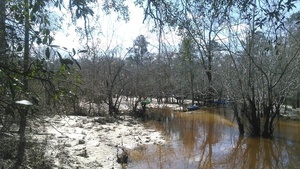 Cozy lunch beach 31.2361164, -83.0458832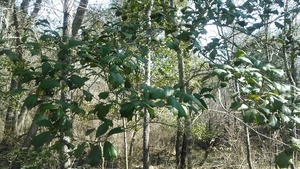 Holly trees 31.2361984, -83.0459061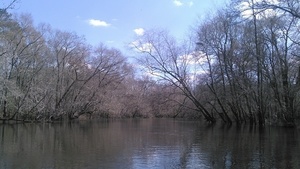 Downstream

Unnamed Road, off Cross Creek Road 31.1749382, -83.0457916


Panorama, Unnamed Road, off Cross Creek Road 31.1749382, -83.0457916


Panorama, Bluff, off Cross Creek Road 31.1749382, -83.0457916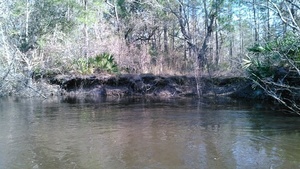 Bluff 31.1749382, -83.0457916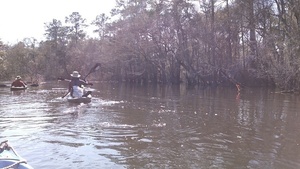 Marking tape 31.1841667, -83.0908333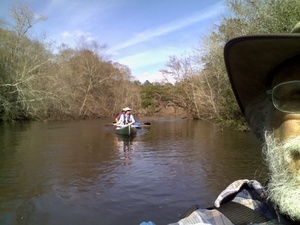 Gretchen Quarterman being chauffeured by Chris Mericle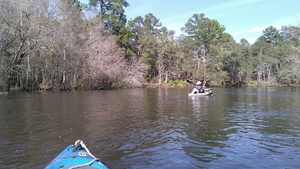 Shirley Kokidko 31.1701164, -83.0419235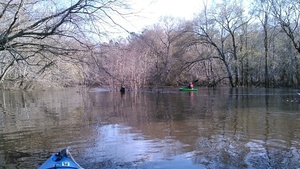 Lee Kiley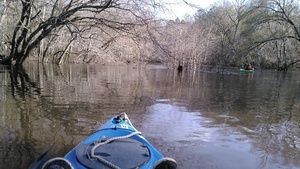 Tangled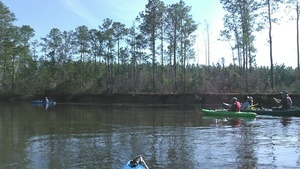 Boaters, bluff, planted trees 31.1707840, -83.0449142


Panorama of bluff 31.1707840, -83.0449142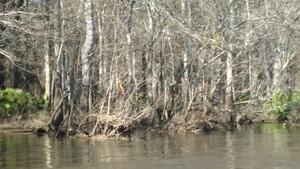 Tape marker 31.1701717, -83.0419311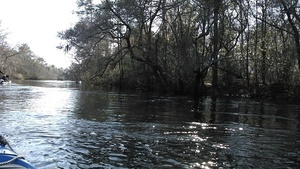 Turn to the right 31.1675091, -83.0401993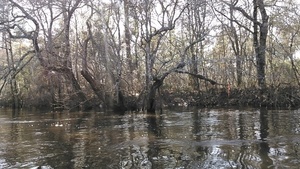 Oak with tape marker, about 500 feet n. of Mud Creek 31.1674213, -83.0402069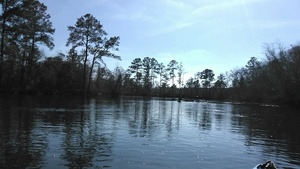 Paddling with pine trees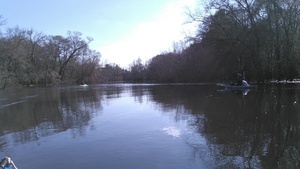 500 feet n. of GA 168 bridge 31.1590309, -83.0395202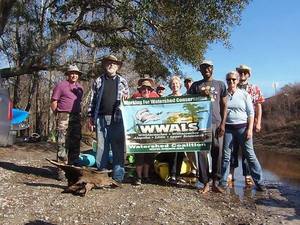 After WWALS banner by Gretchen Quarterman
Short Link: