It's the Ides of March for Sabal Trail 6PM tomorrow in Hamilton County, Florida!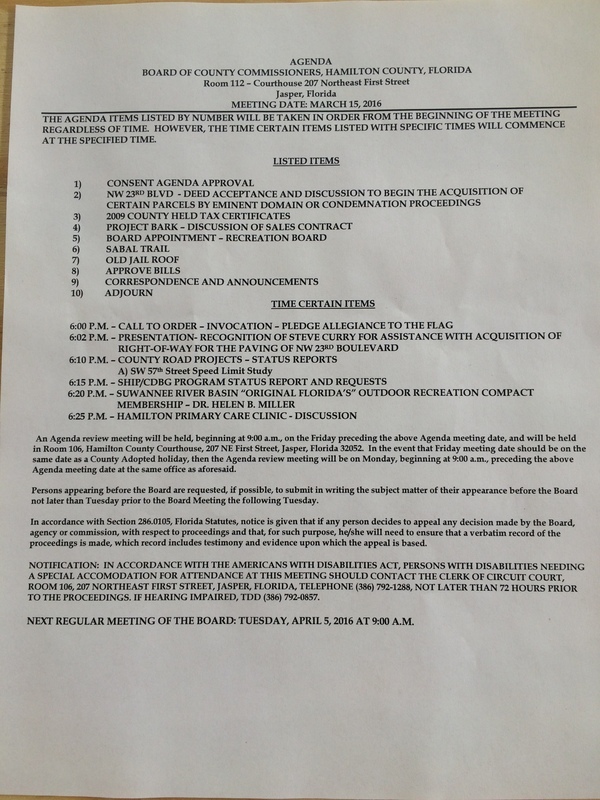 All are invited to come hear and possibly speak about Sabal Trail, which is number 6 on this agenda, not yet posted on the Hamilton County, Florida Board of Commissioners website:
AGENDA
BOARD OF COUNTY COMMISSIONERS, HAMILTON COUNTY, FLORIDA
Room 112 — Courthouse 207 Northeast First Street
Jasper, Florida
MEETING DATE: MARCH 15, 2016

THE AGENDA ITEMS LISTED BY NUMBER WILL BE TAKEN IN ORDER FROM THE BEGINNING OF THE MEETING REGARDLESS OF TIME. HOWEVER, THE TIME CERTAIN ITEMS LISTED WITH SPECIFIC TIMES WILL COMMENCE AT THE SPECIFIED TIME.

LISTED ITEMS

CONSENT AGENDA APPROVAL
NW 23RD BLVD — DEED ACCEPTANCE AND DISCUSSION TO BEGIN THE ACQUISITION OF CERTAIN PARCELS BY EMINENT DOMAIN OR CONDEMNATION PROCEEDINGS
2009 COUNTY HELD TAX CERTIFICATES
PROJECT BARK — DISCUSSION OF SALES CONTRACT
BOARD APPOINTMENT — RECREATION BOARD
OLD JAIL ROOF
APPROVE BILLS
CORRESPONDENCE AND ANNOUNCEMENTS
ADJOURN

TIME CERTAIN ITEMS

6:00 P.M. — CALL TO ORDER — INVOCATION — PLEDGE ALLEGIANCE TO THE FLAG

6:02 P.M. — PRESENTATION- RECOGNITION OF STEVE CURRY FOR ASSISTANCE WITH ACQUISITION OF RIGHT -OF-WAY FOR THE PAVING OF NW 23RD BOULEVARD

6:10 P.M. — COUNTY ROAD PROJECTS — STATUS REPORTS
A) SW 57th Street Speed Limit Study

6:15 P.M. — SHIP/CDBG PROGRAM STATUS REPORT AND REQUESTS

6:20 P.M. — SUWANNEE RIVER BASIN "ORIGINAL FLORIDA'S" OUTDOOR RECREATION COMPACT MEMBERSHIP — DR. HELEN B. MILLER

6:25 P.M. — HAMILTON PRIMARY CARE CLINIC — DISCUSSION

An Agenda review meeting will be held, beginning at 9:00 a.m., on the Friday preceding the above Agenda meeting date, and will be held in Room 106, Hamilton County Courthouse, 207 NE First Street, Jasper, Florida 32052. In the event that Friday meeting date should be on the same date as a County Adopted holiday, then the Agenda review meeting will be on Monday, beginning at 9:00 a.m., preceding the above Agenda meeting date at the same office as aforesaid.

Persons appearing before the Board are requested, if possible, to submit in writing the subject matter of their appearance before the Board not later than Tuesday prior to the Board Meeting the following Tuesday. In accordance with Section 286.0105, Florida Statutes, notice is given that if any person decides to appeal any decision made by the Board, agency or commission, with respect to proceedings and that, for such purpose, he/she will need to ensure that a verbatim record of the proceedings is made, which record includes testimony and evidence upon which the appeal is based.

NOTIFICATION: IN ACCORDANCE WITH THE AMERICANS WITH DISABILITIES ACT, PERSONS WITH DISABILITIES NEEDING A SPECIAL ACCOMODATION FOR ATTENDANCE AT THIS MEETING SHOULD CONTACT THE CLERK OF CIRCUIT COURT, ROOM 106, 207 NORTHEAST FIRST STREET, JASPER, FLORIDA, TELEPHONE (386) 792-1288, NOT LATER THAN 72 HOURS PRIOR TO THE PROCEEDINGS. IF HEARING IMPAIRED, TDD (386) 792-0857.

NEXT REGULAR MEETING OF THE BOARD: TUESDAY, APRIL 5, 2016 AT 9:00 AM.
Last month they discussed it but it hadn't gotten put on the agenda. This time it's on the agenda, but we don't know exactly what it's about. Maybe it's a resolution against Sabal Trail drilling under the Suwannee River from Hamilton County through Suwannee River State Park, where WWALS Board member Chris Mericle led some of the affected elected and appointed officials a month ago.
Come and see! Or write them first or instead.
-jsq
You can join this fun and work by becoming a WWALS member today!
Short Link: