Sunday morning on the tea-colored Withlacoochee River in north Florida in fall: come join us!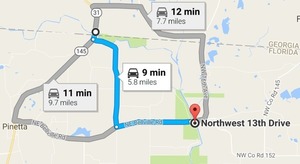 When: 10AM Sunday October 9th 2016
Put in: Madison Highway on the Georgia side, also known as GA 31 Ramp (SRWMD) or State Line Ramp (GA DNR) or CR 145 Bridge Launch (FDEP). 30.635933, -83.311103
Directions: From Valdosta, Lowndes County, GA, go south on Madison Highway, turn right at the sign just before the state line. From Pinetta, Madison County, FL, travel north on CR 145; cross the Withlacoochee River; at the end of the bridge turn left and follow road to ramp.
Take out: Sullivan Launch, also known as CR 150 Bridge Launch (FDEP), in Twin Rivers State Park.
Duration: 5.3 miles, about 2.6 hours.
Shuttle: 6 road miles, 9 minutes each way, 30 minutes total
Responsible party: Chris Mericle.
Bring: Boat, paddle, personal flotation device, snacks, drinking water. If you don't have a boat, let us know, and we can probably rustle one up for you.
This outing is Free! But we encourage you to join WWALS today to support our fun outings and important work: /donations/. See our newsletters, and our press Releases and news.
Water level: Watch the USGS Pinetta gage, which is at the take-out. If it's going to be above minor flood stage at 74 feet above sea level or even above the 59 foot action level (apparently about 27 or 12 feet from the river bottom at about 47.25 feet from sea level), we will consider the backup plan instead. The graph below is live, so see for yourself.

USGS Gage, Withlacoochee River near Pinetta (CR 150), by National Weather Service.
Backup in case of low or high water:
Where: Grassy Pond,
5360 Grassy Pond Rd.
Lake Park, GA 31636
Entry Fee: $5.00
When: 10AM Sunday October 9th 2016
Directions: From Valdosta, GA, take Madison Highway south 3.8 miles, turn left on Loch Laurel Road for 8 miles, turn left onto Grassy Pond Road, go to end of road. From elsewhere: I-75 exit 5 to Loch Laurel Road, then as above.
Coming up even sooner
For more outings and events as they are posted, see the WWALS calendar.
You can join this fun and work by becoming a WWALS member today!
-jsq
Short Link: