Update 2017-04-28: Sandhills and wildlife at Alapaha WMA
WWALS is gratified that people are contacting us about the WMA, but we're just reporting on it, we do not run it.
Contact information for the Alapaha WMA:
Greg Nelms, Wildlife Biologist, Game Management, Wildlife Resources Division, GA-DNR
(229) 426-5267 | M: (404) 985-6424
Update 2016-10-20: WMA check-in hunt does not count towards Georgia bag limit.
Update 2016-10-18: Video of Deserter Lake in the Alapaha WMA and hunting dates and bag limits.
Halfway between Tifton and Ocilla on the Alapaha River in Irwin County, apparently announced only by a public hearing in July about hunting reglations: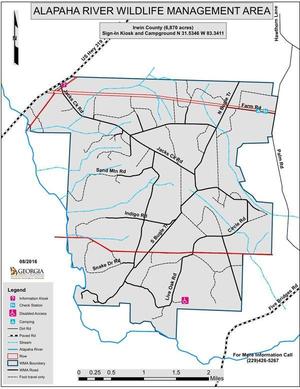 the new 7,000-acre Alapaha River Wildlife Management Area (WMA). There's an information kiosk off of US 319. , with the sign-in kiosk and campground across the WMA: from Ocilla take US 319 S, left onto Hawthorn Ln, right onto Palm Rd, right onto Farm Rd.
Update 2016-08-30: According to Greg Nelms, Wildlife Biologist, DNR, the main entrance will be off of US 319; there is already a WMA sign there. It's not quite open yet; they're still working on roads. A ribbon cutting is scheduled for September 30th. The first hunting season will be an archery hunt on October 1st; hunters can go in at noon the previous day to set up stands.
Here's the announcement of the public hearing: GA DNR/Wildlife Resources Division/Game Management, 6 July 2016, Proposed Regulations for Alapaha River WMA; Public Hearing Scheduled,
The new regulations, probably adopted unchanged, and which seem to consist of dates and conditions for hunting seasons for various game animals, are online here.
Several maps are linked in for Continue reading →