No boat needed! This Rivers-Alive Cleanup is on land, at GA 168, the launch for Berrien Beach on the Alapaha River. Bring gloves. Trash bags will be supplied.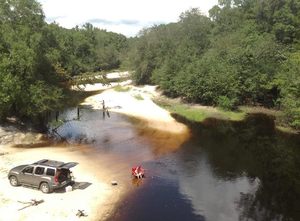 When: 4PM Saturday September 10th 2016
Where: Berrien Beach Launch, at GA 168, 31.159076, -83.045554
Directions: 12.9 miles east of Nashville, GA on GA 168; launch access road is on left (north) side of highway west of the river.
Duration: about 1.5 hours.
Responsible party: Bret Wagenhorst
This outing is Free! But we encourage you to join WWALS today to support our fun outings and important work: /donations/. See our newsletters, and our press Releases and news.
Backup in case of access problems:
Cleanup at Lakeland Launch
Where: Just east of Lakeland on US 221/GA 122/GA 37, south side of highway, west side of river, 31.045882, -83.043610
When: 4PM Saturday September 10th 2016
Coming up even sooner
And scheduled later:
For more outings and events as they are posted, see the WWALS calendar.
-jsq
You can join this fun and work by becoming a WWALS member today!
Short Link: