Sabal Trail offers $60,000 to a library in Suwannee County, the only county through which every path ever proposed by Sabal Trail would pass.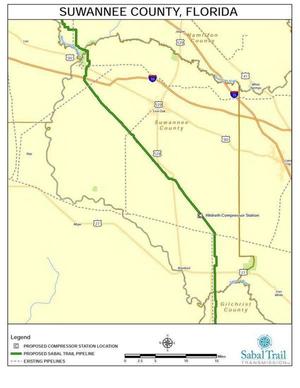 The same Florida county where another hydrogeology report says Sabal Trail's 36-inch fracked methane pipeline drilling would risk springs, caverns, the Suwannee River, and everyone's drinking water in the Floridan Aquifer.
If you think $60,000 or $60 million or $3 billion is not enough for that hazard to our water and property rights, you can come and say so.
When: 6PM Tuesday July 5th 2016
where: Judicial Annex
218 Parshley St. SW
Live Oak, FL 32064
Event: facebook
What: On the agenda for the Suwannee Board of County Commissioners:
The Suwannee River Regional Library requests Board approval to apply for a community grant and enter into a Memorandum of Understanding with Sabal Trail Transmission to provide funding for enhanced library automation services to the citizens of Suwannee County. Funding in the amount of $60,343.00.
Does this mean Sabal Trail is feeling the pain of the increasing opposition to its $3 billion boondoggle? Such donations follow the standard pipeline playbook when encountering resistance. Kinder Morgan tried donating $30,000 to the McIntosh County, GA schools last August after the Georgia Department of Transportation denied it a permit. That didn't help KMI: a judge denied its appeal, and the Georgia legislature passed an eighteen-month moratorium on petroleum products pipelines, after which KMI suspended that Palmetto Pipeline.
That moratorium has no direct effect on Sabal Trail, but that same March 23rd 2016 the Georgia House of Representatives by 128 to 34 rejected river-drilling easements for Sabal Trail. Georgia also has not given Sabal Trail a Clean Water Act Section 401 permit, and the U.S. Army Corps of Engineers has not provided any permits.
Getting desperate, Sabal Trail?
Debra Johnson, SpectraBusters, 1 July 2016, Sabal Trail Transmission Memorandum of Understanding in Suwannee County — Board meeting July 5, 2016,
This is a paltry sum of bribery money for a county whose land mass is 97% recharge area for Floridan Aquifer — our sole source of drinking water. the dangers of boring under the Suwannee River and threat to 100's + of springs in the springs heartland of Florida.

Question is what is Suwannee County doing for this money? SBOCC has banned fracking and requested Army Corps of Engineers do a Supplemental EIS at the Suwannee River Boring site in which Sabal Trail left out the two 1st magnitude springs within 1 mile of the pipeline as well as the sinkholes in the pipeline path in their environmental impact study used to receive permits from FERC and FDEP.

Or is this chump change just an Andrea Grover 'we will be good neighbors' move to hide the fact they use THINNER PIPE in rural areas — to make us feel more significant? No something more than that….

Suwannee County would be wise to refuse this money even though the program it is intended for is a great idea. This pocket change and agreement is not. Remember Spectra energy is a multinational billion dollar company with well heeled investors going to the top of the economic food chain.
Debra adds some suggestions about what such money could better be spent on, such as:
Perhaps Sabal Trail could take their money and train local Emergency Services on dealing with pipeline ruptures, leaks and explosions.
Maybe Suwannee County doesn't know the lengths to which Spectra Energy will go in such donations. Spectra Energy, Press Release, 1 March 2007, Spectra Energy Transmission Donates $200,000 to STARS,
CALGARY, Alberta — Spectra Energy Transmission is contributing $200,000 to STARS (Alberta Shock Trauma Air Rescue Society) for their programs and services which include a new base of operations in Grande Prairie.
And Debra wants to know what Sabal Trail gets out of this proposed paltry library donation. Wouldn't you like to know that, too?
-jsq
You can join this fun and work by becoming a WWALS member today!
Short Link: