WWALS members have already received the June Tannin Times. A month or so later, we publish the WWALS newsletters online, such as this one from May 2016.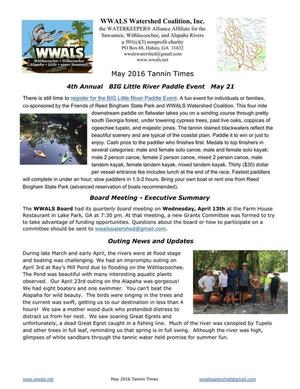 Follow this link for PDF and below are images of the May 2016 Tannin Times. Click on any small image to get a bigger image. It's all about the BIG Little River Paddle Race, WWALS Ambassador Dave Hetzel went to A Day in the Woods, and we boated in outings at Ray's Mill Pond and on the Alapaha River with Great Egrets and canopied by trees in full spring leaf.
In advocacy, WWALS applauded Suwannee County, FL for asking the U.S. Army Corps of Engineers to investigate Sabal Trail pipeline discrepencies. We observed Lowndes County also had a wastewater spill; they're not just for Valdosta (although Valdosta has since fixed its biggest problems).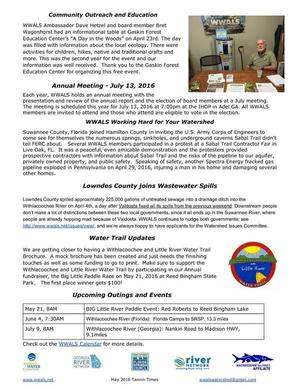 And we're making progress on the Withlacoochee and Little River Water Trail, with a pamphlet.
You can help with all this by becoming a WWALS member. And if you like water trails, or outings, or events, or you are concerned about wastewater, or pipelines, or corporate agriculture, there's a committee for that or for other things, and you can apply to join it!
If you want to see WWALS in action in person, you can come to one of the many outings or actions or to the WWALS Membership meeting July 13th at the IHOP in Adel.
-jsq
You can join this fun and work by becoming a WWALS member today!
Short Link: