Update 2016-09-04: "We're on for Monday morning! River excellent condition," says expedition leader Phil Hubbard.
Update 2016-09-02: Delayed until 10AM Monday 5th September due to aftereffects of Hurricane Hermine.
Update 2016-09-01: Watching Tropical Storm Hermine.
More people want to go after the pictures and reports from a few weeks ago,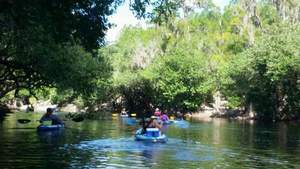 so WWALS has scheduled a redo from Roline to Cypress Creek on the iconic Suwannee River in north Florida. Also with a slightly later start this time; more convenient for far-away folks.
When: 10AM Saturday September 3rd 2016
Put in: Roline Launch, 30°33'51.0″N 82°43'30.6″W or 30.564185, -82.725167
Duration: 7.5 miles, about 4 hours.
Directions:
From Jasper: east on FL 6 approx. 15 miles, left on Woodpecker Rd. (Dirt) about 3 miles, follow sign to launch.
Shuttle: 6.2 road miles, 15 minutes each way, 45 minutes total
Take out: Cypress Creek South Launch
Responsible party: Phil Hubbard
Bring: Boat, paddle, personal flotation device, snacks, drinking water. If you don't have a boat, let us know, and we can probably rustle one up for you.
This outing is Free! But we encourage you to join WWALS today to support our fun outings and important work: /donations/. See our newsletters, and our press Releases and news.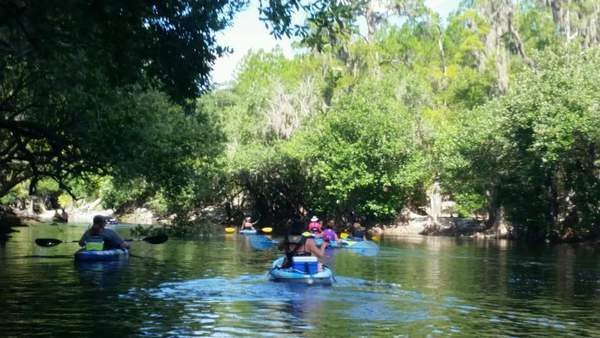 Photo: Debra Bearden Lister
Curiously, Cypress Creek South does not appear on either of the two maps of the Suwannee River Wilderness Trail, but it is on Suwannee River Water Management District's map of Turner Bridge, Roline, Cypress Creek South:
Water level: Watch the USGS White Springs gage for at least 51′.
USGS Gage, Suwannee River at White Springs, by National Weather Service.
If it gets below 51′, we will consider the backup plan instead. The graph above is live, so see for yourself.
Backup in case of low or high water or more likely weather:
When: Later in the day or Sunday
And more WWALS outings:
For more outings and events as they are posted, see the WWALS calendar.
-jsq
You can join this fun and work by becoming a WWALS member today!
Short Link: