The city of Moultrie also had a small wastewater spill Sunday during the storm, but it was tiny compared to Valdosta's, and Moultrie's WTP is on the Ochlockonee River, not in the Suwannee River Basin.
Like Tifton, Moultrie's wastewater operator is not listed on Moultrie's city website, because its Wastewater Treatment Facility (WWTF) is operated by the same private contractor, ESG Operations, Inc. That arrangement was announced in June 2015, shortly before major Moultrie WWTF improvements by RTD Construction were announced in September 2015.
Pretty quickly I got through to Bryan Roland, Project Manager, who said yes, they had a spill of 36,000 gallons, all on Sunday January 22nd, from 3:30 to 7:30 PM.
Roland described the plant's location as "on the cul-de-sac of Woodridge Road". That's at 31.158386, -83.807178. That's right next to the Ochlockonee River, which of course is not in the Suwannee River Basin. Neither Okapilco Creek nor the Little River were affected by this Moultrie spill.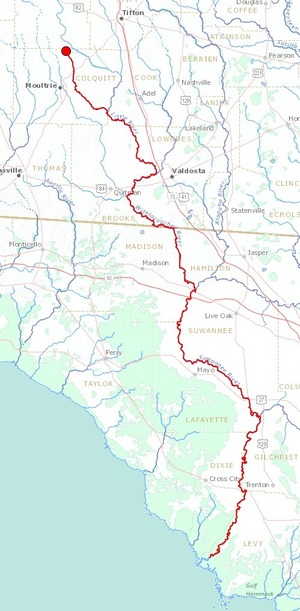 Update 13:30 26 January 2017: Moultrie also has another, smaller, one: Spence Field WPCP, at 31.133904, -83.698457. Roland confirmed there was no spill from Spence Field WPCP. That WPCP is next to Indian Creek, which goes into the Little River east of Berlin, then into the Withlacoochee River at Troupville just west of Valdosta and a bit upstream of Valdosta's WWTP, then into the Suwannee River and the Gulf of Mexico.
Roland confirmed that there are no other wastewater treatment plants in Colquitt County (the county has a land application site).
So, both Tifton and Moultrie had spills during the recent storms, in addition to Valdosta, but Valdosta's 2.2 million gallon leak was more than 60 times Moultrie's 36,000 gallon spill.
-jsq, John S. Quarterman, Suwannee RIVERKEEPER®
You can join this fun and work by becoming a WWALS member today!
Short Link: