Suwannee RIVERKEEPER® invites you on a brief paddle down the Suwannee River from the CR 141 ramp to the Sabal Trail pipeline path, and onwards to Suwannee River State Park (SRSP) Ramp,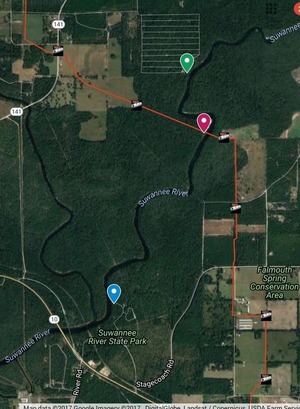 preceded by speakers at SRSP. The last time we paddled this route we were live on the WCTV 6 o'clock news. Like that time, this is a completely legal nonviolent protest event against the unnecessary, destructive, and hazardous Sabal Trail fracked methane pipeline, right now drilling under the Suwannee River.
Bring the usual personal flotation device, boat paddles, food, drinking water, warm clothes, and first aid kit. With bon-bons, of course.
Simultaneously another event NOT organized by WWALS is taking place: Mass Civil Disobedience to Stop the Suwannee River Crossing. If you want to do anything that might not be legal, go to that other, non-WWALS event.
To hear directly from the organizers of the various events, come to Rivers against Sabal Trail in Live Oak 7PM Jan 12 2017 —Suwannee RIVERKEEPER®
The January 14th WWALS Suwannee River paddle is resolutely legal, on the navigable waters of the Outstanding Florida Water, the Suwannee River, or on its banks below the high water mark. There is no perfect guarantee, but this WWALS outing is about as safe legally as you can get.
When: Saturday, January 14th, 2017
10:30 AM deposit boats at CR 141 Ramp (the green map marker). The boats will be watched by a WWALS volunteer.
Shuttle to SRSP by 11AM for speakers there (the blue map marker).
Noon shuttle back to CR 141 Ramp to be on the water by 12:30 PM
to get to the pipeline crossing by 1PM (the red map marker).
Afternoon take out at SRSP and shuttle those who need it back to CR 141 Ramp.
Put In: Continue reading →