Update 2017-10-13: WWALS Videos of all the speakers.
FOR IMMEDIATE RELEASE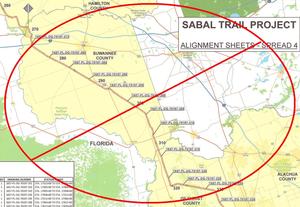 Live Oak, Florida, January 4, 2017 —Spectra Energy of Houston, Texas is drilling its 36-inch fracked methane pipeline under the Suwannee and Withlacoochee (south) Rivers in Florida right now. It already caused a frac-out of drilling mud into the Withlacoochee River in Georgia and a sinkhole, plus more sinkholes where it drilled under the Santa Fe River in Florida. How did this happen? What can we do to stop this unnecessary, destructive, and hazardous corporate boondoggle?
Suwannee Riverkeeper calls water protectors to rally in Live Oak against the Sabal Trail pipeline and for our property rights, rivers, and the Floridan Aquifer.
When: 7 PM, Thursday, January 12, 2017
Where: The Woman's Club of Live Oak, 1308 11th Street SW, Live Oak, FL 32064
Agenda: Continue reading →