Update 2017-10-13: WWALS Videos of all the speakers.
FOR IMMEDIATE RELEASE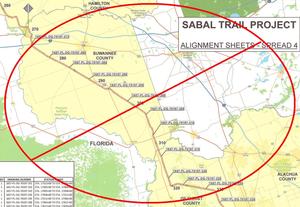 Live Oak, Florida, January 4, 2017 —Spectra Energy of Houston, Texas is drilling its 36-inch fracked methane pipeline under the Suwannee and Withlacoochee (south) Rivers in Florida right now. It already caused a frac-out of drilling mud into the Withlacoochee River in Georgia and a sinkhole, plus more sinkholes where it drilled under the Santa Fe River in Florida. How did this happen? What can we do to stop this unnecessary, destructive, and hazardous corporate boondoggle?
Suwannee Riverkeeper calls water protectors to rally in Live Oak against the Sabal Trail pipeline and for our property rights, rivers, and the Floridan Aquifer.
When: 7 PM, Thursday, January 12, 2017
Where: The Woman's Club of Live Oak, 1308 11th Street SW, Live Oak, FL 32064
Agenda: MC Gretchen Quarterman, WWALS Executive Director
Introduction and Welcome —Eileen Box, Conservation Chair, Live Oak Woman's Club
What Suwannee Riverkeeper does —Dave Hetzel, WWALS Ambassador
Three years of meetings, reports, and tours —Chris Mericle, Hamilton County
Sacred Water Camp on the Suwannee River —Debra Johnson, Suwannee County
Water is Life Camp on the Santa Fe River —Cindy Noel, Gilchrist County
LNG export, trucks, and trains —Cecile Scofield, Martin County
5-minute Break, then Announcements —One minute each
Organizing against the pipeline —Our Santa Fe River
Mass sit-in at the Suwannee River —Panagioti Tsolkas, Sabal Trail Resistance
Stopping Sabal Trail is not enough —Merrillee Malwitz-Jipson, Sierra Club Florida
Bank exits and Water Protector Alliance —Dylan Hansen, Brevard County
Help the sun rise on Florida — John S. Quarterman, Suwannee Riverkeeper
#NoSabalTrail, #WaterIsLife, #NoDAPL
Suwannee RIVERKEEPER®
WWALS Watershed Coalition, Inc.
is the WATERKEEPER® Alliance
Member for the
Suwannee, Withlacoochee, Little,
and Alapaha Rivers
PO Box 88, Hahira, GA 31632
850-290-2350, wwalswatershed@gmail.com
SuwaneeRiverkeeper.org, www.wwals.net
===
-jsq
You can join this fun and work by becoming a WWALS member today!
Short Link: