Madison BOCC passed a Resolution unanimously, with the same wording as the resolution by Suwannee BOCC.
In the MINUTES OF THE REGULAR MEETING, WEDNESDAY, OCTOBER 12, 2016:
Upon a motion by Commissioner [Wayne] Vickers, seconded by Commissioner [Justin] Hamrick, the Board voted unanimously (5-0) to approve the Consent Agenda (1. Agreement between the County and the North Central Florida Planning Council for Monitoring Hazardous Waste Generators for Fiscal Year 2017; 2. Resolution 2016-10-12A; Support of National Water Trail Designation for the Suwannee River).
In the agenda for the October 12, 2016 Madison BOCC Regular Meeting.
RESOLUTION NO. 2016-10-12A

Support of National Water Trail Designation of I

The Suwannee River in Madison County

WHEREAS, the benefits of designation of the Suwannee River in Madison County as a National Water Trail include being recognized nationally as a recreation destination, nationally promoted on maps and through website, increased tourism, and increased revenue for local businesses

WHEREAS, our region benefits from promoting nature»based recreation opportunities, especially paddling, biking, hiking, equestrian activities, hunting, fishing, and wildlife viewing, to increase health benefits to our local communities and encouraging youth and families to participate in outdoor activities

WHEREAS, the region benefits from promoting the rich culture and history contained within the watershed of the Suwannee River, drawing visitors eager to explore the historical legacy.

WHEREAS, the Suwannee River National Water Trail offers a unique opportunity for residents and visitors to explore an unspoiled, pristine area of Florida and Georgia

WHEREAS, the cultural, historical and natural resources of this area are some of the most unique in the Southeast

THEREFORE, BE IT RESOLVED, the Board of County Commissioners Madison County Florida, endorses the Office of Greenways & Trails application for designation ofthe Suwannee River in Madison County as a National Water Trail by the United States Department of the Interior.

[signatures]
I added a few links. There's more about the Suwannee River Wilderness Trail on the WWALS website. The Withlacoochee and Little River Water Trail runs down the eastern border of Madison County to the Suwannee River. And terminating at the Suwannee River is also the Alapaha River Water Trail.
-jsq, John S. Quarterman, Suwannee RIVERKEEPER®
You can join this fun and work by becoming a WWALS member today!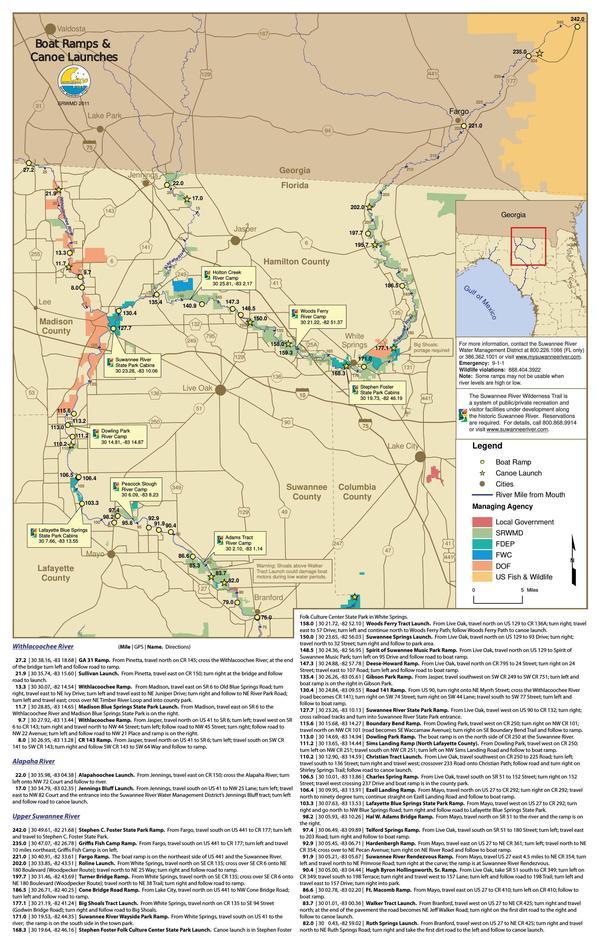 Short Link: