Daily Archives:
March 6, 2017
Come help WWALS celebrate spring with 25,000 of our Valdosta-area friends, at the Azalea Festival, Saturday and Sunday 11 and 12 March 2017.
When: 10AM-6PM Saturday 12 March 2016
10AM-5PM Sunday 13 March 2016
Volunteer: WWALS members can help at the table!
Where: Drexel Park
30.846771, -83.285066
Patterson Street at W. Brookwood Drive, Valdosta, GA
(across Patterson from VSU)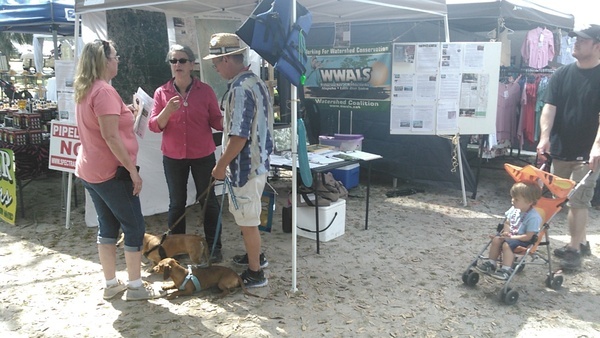 What:
The Festival
website
says:
The 2017 Azalea Festival will feature arts and crafts vendors from several different states, a huge food court, six stage areas of entertainment, a Classic Car and Motorcycle Show, KidZone, entertainment, Bike Ride and 5K race, and a whole lot more. Free admission.

The 16th Annual Azalea Festival (March 14 & 15, 2016) was a huge success. Thanks to all of our attendees, entertainers, sponsors, and all of our Board members and volunteers. Saturday, March 12 was a record setting day with a single day record of over 15,000 patrons visiting the Festival. Sunday was shortened due to severe thunderstorms, but the rains didn't dampen the successes that we had on Saturday. Average two day attendance for the Festival is approximately 25,000.

The 2016 Azalea Festival featured a record number of over 170 arts & crafts vendors from several different states, a huge food court, six (another record) stage areas of entertainment, a Classic Car & Motorcycle Show, a newly expanded KidZone, the World Famous Disc-Connected K9's Frisbee Show, the Paul Bunyan Lumberjack Show (sponsored by The Langdale Company), the all-new Falconry Forever/Birds of Prey Exhibits and Demonstrations, entertainment by Wild Adventures Theme Park, two great bands (sponsored by Camping World of Valdosta), the VLPRA Smoothie King Century Bike Ride & 5K race, and a whole lot more. None of this would have been possible without our sponsors, volunteers, and the support of our local community.

What started off as a small, local festival 16 years ago has become a major regional festival attracting attendees from all over the Southeastern United States, as well as a major economic booster for Valdosta and Lowndes County. Our vendors, attendees, and race participants come from several different states from Florida to South Dakota.
Drexel Park is on One Mile Creek, so we can watch it for any grease-caused spills, or fish, for that matter. Maybe it won't flood like in the rain last year that closed festival Sunday afternoon.
-jsq, John S. Quarterman, Suwannee RIVERKEEPER®
You can join this fun and work by becoming a WWALS member today!
Madison BOCC passed a Resolution unanimously, with the same wording as the resolution by Suwannee BOCC.
In the MINUTES OF THE REGULAR MEETING, WEDNESDAY, OCTOBER 12, 2016:
Upon a motion by Commissioner [Wayne] Vickers, seconded by Commissioner [Justin] Hamrick, the Board voted unanimously (5-0) to approve the Consent Agenda (1. Agreement between the County and the North Central Florida Planning Council for Monitoring Hazardous Waste Generators for Fiscal Year 2017; 2. Resolution 2016-10-12A; Support of National Water Trail Designation for the Suwannee River).
Continue reading