Update 2017-05-17: OK, the water's gotten too low at the original location, so we're moving downstream to Woods Ferry Tract Launch to Suwannee Springs.
Update 2017-05-15: The water's low, but so far it's a go, plus it's Hands across the Sands on the Suwannee against the Sabal Trail fracked methane pipeline and for solar power.
Update 2017-04-06: SRWMD tells us Blue Sink Launch is closed, so we'll be taking out nearby at Swift Creek Launch.
Join WWALS for a brief paddle 8 miles on the Suwannee River through White Springs down to Blue Sink Swift Creek Launch. This shouldn't take more than 4 hours paddling or 5 hours including shuttle. With lunch, swim stops, and bon-bons, of course.
Bring the usual personal flotation device, boat paddles, food, drinking water, warm clothes, and first aid kit. If you don't have a boat, there are many outfitters, or let us know and many of us have spare boats.
When: 9AM Saturday 20 May 2017
Put In: Suwannee River Wayside Park Ramp, river mile 171.0
From White Springs, travel south on US 41 to the river; the ramp is on the south side in the town park.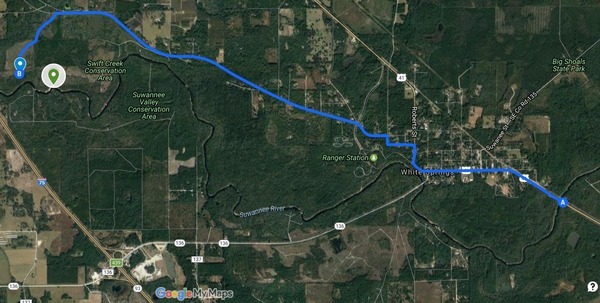 This map drawn using landing directions from the Suwannee River Wilderness Trail map of Boat Ramps & Canoe Launches and SRWMD's Blue Sink, Rocky Creek, Swift Creek.
Duration: 5 hours
Free: This outing is Free! And we recommend you support the work of WWALS by becoming a WWALS member today!
Shuttle Distance: Continue reading →