How about the state of Florida drop the Sabal Trail fracked methane pipeline and get on with solar power in the Sunshine State?
Thomas Lynn, Suwannee Democrat, 30 April 2017, Charges against pipeline protesters dropped,
LIVE OAK — Charges against three Sabal Trail pipeline protesters who were scheduled to be tried in court this week were dropped by the state attorney's office.

Jeff Siegmeister, state attorney for Florida's third judicial circuit, said the decision was made for a couple of reasons.

"We made a decision to not give the protesters a platform and not waste the taxpayers money," Siegmeister said.
How about the waste of taxpayer money on arrests and going this far in those cases? How about the state providing dozens of state highway patrol vehicles to Sabal Trail as platforms against the water protectors?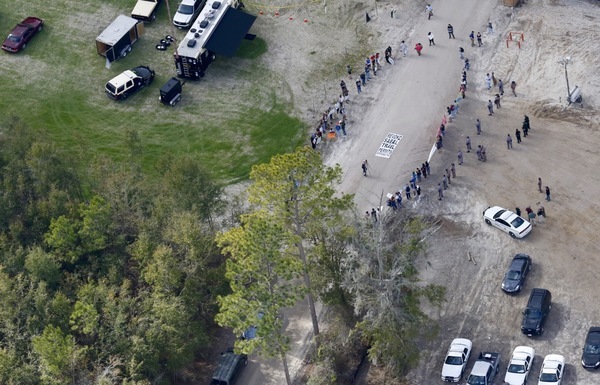 "Revoke Sabal Trail Permits", Suwannee County, FL, 2017-01-14.
How about the $3.2 billion of FPL customer payments wasted on Sabal Trail, even after FPL admitted a year ago Florida needs no new electricity until 2024 at the earliest? How about the risk to the Outstanding Florida Waters the Suwannee, Santa Fe, and Withlacoochee (south) Rivers even after violations Sabal Trail and FDEP assured us would not happen are happening?
Even Disney World is using solar panels supplied by Duke Energy, one of the Sabal Trail partners, and Duke is building an even larger solar farm in Suwannee County. So why is Sabal Trail still gouging its Hunters Creek pipeline a few miles from Disney World after boring under the Suwannee River?
Florida shouldn't be filing Mickey Mouse charges against pipeline protestors. It should cancel Sabal Trail and get on with converting everything to 100% sun, wind, and water power.
-jsq, John S. Quarterman, Suwannee RIVERKEEPER®
You can join this fun and work by becoming a WWALS member today!
Short Link: