Back by popular request, 9.1 miles past two of the six second-magnitude springs in Georgia, into and back out of Florida, over numerous shoals, on the tea-colored Withlacoochee River in the fall, all on the Withlacoochee and Little River Water Trail.
When: 9AM Saturday, October 14, 2017
Put In: Nankin Boat Ramp, MILE 36.3, 6899 Clyattville-Nankin Rd, Valdosta, GA 31601, in Lowndes County.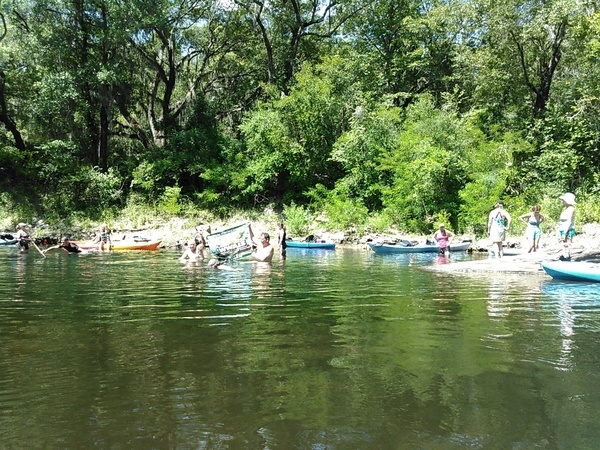 Bring: the usual personal flotation device, water, snacks, trash bag, and trash picker: every WWALS outing is also a cleanup! If you do not have a boat, let us know, and probably somebody can loan you one, or contact one of the many outfitters.
Free: This outing is Free! And we recommend you support the work of WWALS by becoming a WWALS member today!
Take Out: Madison Highway Boat Ramp, MILE 27.2, Madison Highway just north of the Georgia-Florida State Line in Lowndes County.
From Pinetta, Madison County, FL, travel north on CR 145; cross the Withlacoochee River; at the end of the bridge turn left and follow road to ramp in Hamilton County, FL.
Also known as Mozell Spells (local people) or State Line Ramp (GA DNR) or GA 31 Ramp (SRWMD) or CR 145 Bridge Launch (FDEP).
Shuttle: 9.3 miles or 12 minutes one way: allow half an hour round trip.
Duration: About 4.5 hours plus shuttle, or 5 hours overall.
Host and Contact: Tom Potter
Gage: USGS 02318500 at US 84. The lowest water record shown there is 84.60 feet NAVD, and apparently dry river would be 83.50 NAVD.
Before: We did this paddle before:
In 2013 we were sure that was as low water as you'd want to paddle.
In 2016, with the water a foot and a half lower, we were sure it was plenty low.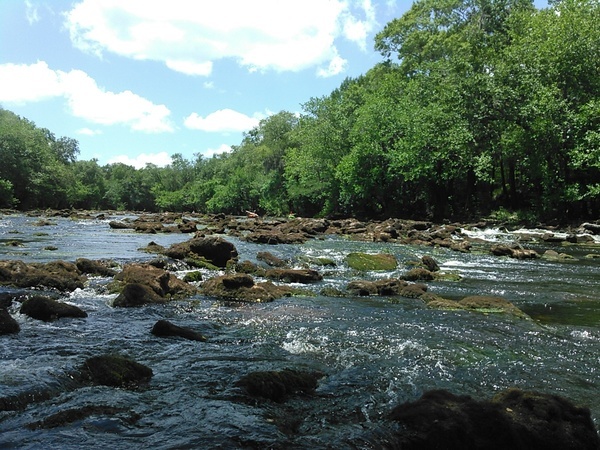 Backup: Grassy Pond Boat Ramp, 5360 Grassy Pond Dr., Lake Park, GA 31636.
See also Brooks County, Springs Capital of Georgia.
-jsq, John S. Quarterman, Suwannee RIVERKEEPER®
You can join this fun and work by becoming a WWALS member today!
Short Link: