Brooks County can boast three springs of a type usually thought to be only in Florida. Of only about six second magnitude springs in Georgia, three are downstream from US 84: Wade or Blue Springs, sadly defunct; McIntyre Spring, large and easily accessible in the right bank emerging from 4610 feet of caverns back under Brooks County; and Arnold Springs, actually three small springs in the left bank.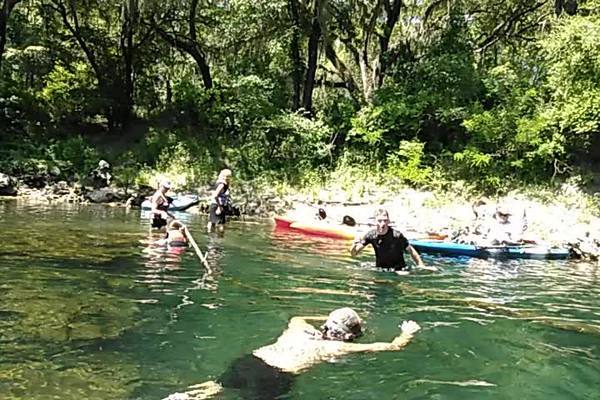 Picture by John S. Quarterman for WWALS Watershed Coalition 9 July 2016,
as are all the other pictures herein not otherwise labeled.
And there are numerous shoals between these springs.
Second magnitude springs average 10 to 100 cubic feet per second (cfs) of discharge. While they are widespread in north Florida, apparently there are only about six in Georgia.1 Since the county line is on the east bank, all three of these springs in the Withlacoochee River are in Brooks County. (There is only one first magnitude spring (more than 100 cfs) in Georgia, Radium Springs near Albany.)
The biggest Brooks County spring is McIntyre Spring, next to the west or right bank, with about 46.42 cfs,1 at 30.6413168, -83.3659836, about river mile 31.46. Cave diver Guy Bryant says he and others have explored it with scuba gear 4610 feet back under Brooks County.

Map by Guy Bryant
Land access to McIntyre Spring is privately owned and closed, but the spring itself is readily accessible in the river, as viewed on this WWALS Watershed Coalition outing of July 9, 2016: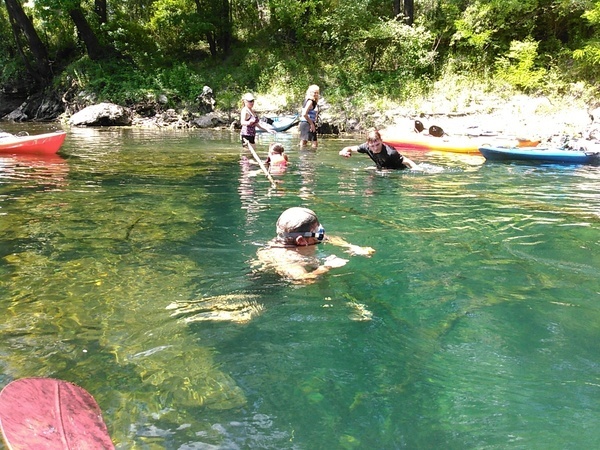 Smallest is the cluster of three springs known as Arnold Springs, on the north or left bank, at 30.641185, -83.336079, about river mile 29.06, owned by a family corporation based in Valdosta. I'm assuming Arnold Springs is second magnitude. If anybody has actual flow data on it, please send it here.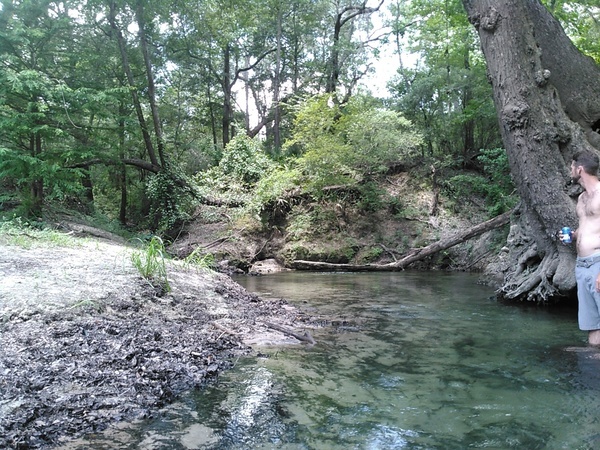 The most famous, Blue or Wade Spring just south of US 84 and the railroad tracks and north of Blue Springs Road, was once a famous resort, with a custom-built railroad. It was actually two springs, one inland at the resort and one in the river, measured in 1937 at 19.9 and 23.21 cfs.1 The past tense is because according to a reliable source attempts to improve the spring by digging it out destroyed it. The inland Wade Spring was at about 30.791254, -83.454946, with the spring in the river at about 30.792200, -83.453349, about river mile 58.05.
Pictures of Wade Spring are surprisingly hard to find, other than this post card of a building, of unknown date:

Post card of unknown provenance and date
Here's an old writeup on Wade Spring and McIntyre Spring:
"With the exception of the town of Quitman, the entire domestic water-supply of Brooks county is practically obtained from the shallow wells, which penetrate the Lafayette sandy clays, or the underlying Miocene beds. There are a few large springs in the county; but they are always located in more or less inaccessible places; and, as a result, they are only occasionally used for domestic, or other purposes. There is, however, in the case of the so-called Blue or Wade Mineral-spring, a rather marked exception to this general rule. This spring, which is located near the right bank of the Withlacoochee River, seven miles east of Quitman, has, in recent years, become quite a local pleasure resort. The improvements consist of a small hotel, or boarding-house, and a number of cottages. for the accommodation of guests. The spring is a typical so-called blue spring, of the limestone region of South Georgia. It seems to be the outlet of a large subterranean stream, which ascends, with considerable force, through a large opening. At the time of the writer's visit to the spring, in November, 1903, a rough estimate showed, that it was then flowing about 15 million gallons per day. It was learned, however, that, during an extremely dry season, some years ago, the spring went dry. Another of these large springs, known as the McIntyre Spring, having probably twice the capacity of the Blue Spring, is to be seen in Withlacoochee River, near the Georgia-Florida line, 15 miles southeast of Quitman."2
Shoals and rapids (depending on water level) are also frequent from just above US 84 on the Withlacoochee River, including just below the closed antique Spook Bridge on Blue Springs Road.
Just above Clyattville-Nankin Road is a small rapid, "complete with surfing wave".3
About a mile downstream are more shoals, at 30.6673000, -83.3870700.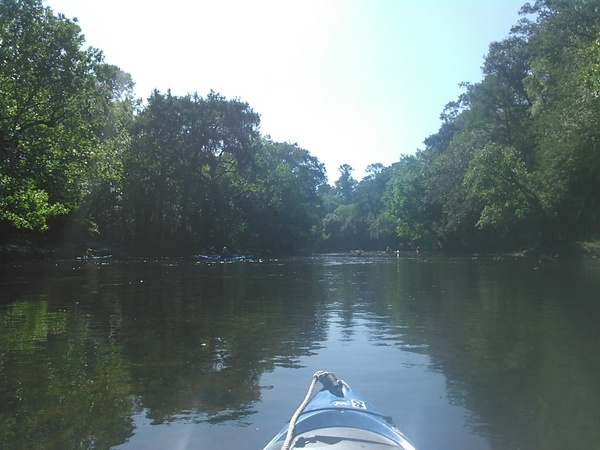 Perhaps the most famous is State Line Shoals about a mile downstream of McIntyre Springs in Florida, 30.6345577, -83.3415604.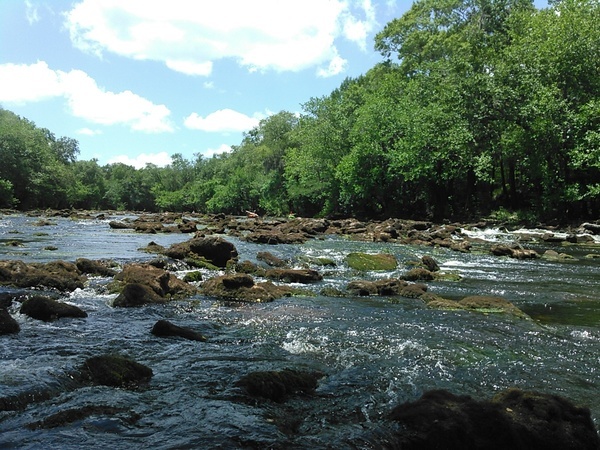 Just after the river turns back north into Georgia, there are more shoals at 30.6377239, -83.3397674. Do these shoals have a name? If not, let's call them Back to Georgia Shoals. That's in Olympia Bend, which separates a loop of Brooks County from the rest, forming an exclave that includes Arnold Springs and a shooting range, and continues across Madison Highway south of Horns Ferry Bridge.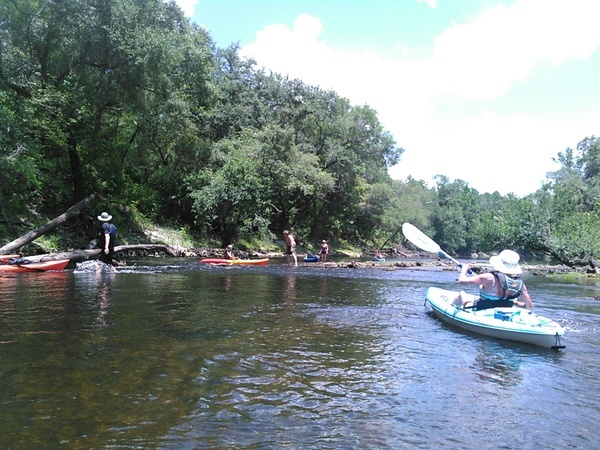 I guess this all demonstrates south Georgia is a lot like north Florida. All these springs and shoals are listed (or will be shortly) on the online map for the Withlacoochee and Little River Water Trail.
1 V.T. Springfield, Artesian Water in Tertiary Limestone in the Southeastern States, Geological Survey Professional Paper 517, U.S. Government Printing Office 1966, page 182, in Geophysical Field Investigations, 1964-67, Geophysical Survey Professional Paper 516.
2 S. W. McCallie, State Geologist, A Preliminary Report on the Underground Waters of Georgia, Geological Survey of Georgia, Bulletin No. 15, 1908, digitized by Google, Page 58, Brooks County.]
3 John W. English (Editor), Brown's Guide to the Georgia Outdoors: Biking, Hiking, and Canoeing Trips: Selected from Brown's Guide to Georgia Paperback, March 1, 1994.
-jsq, John S. Quarterman, Suwannee RIVERKEEPER®
You can join this fun and work by becoming a WWALS member today!
Short Link: