FOR IMMEDIATE RELEASE
Gainesville, Florida, December 23, 2017 — Suwannee Riverkeeper met Chris Newton of Holly Hill, Florida, half way to Daytona Beach to deliver the kayak he won in a WWALS raffle. Back in October at Suwannee Hulaween, Chris got one raffle ticket, and that was the winning ticket. When the Riverkeeper called him, he wanted to know if someone had found his keys. When he heard what he was getting, "No way!" he said. But we found a way to get him the Trio-11 kayak generously donated by Malibu Kayaks.
For me?
Yes, Chris Newton of Holly Hill, Florida, yours was the winning raffle ticket we drew December 10, 2017 at Georgia's Stephen C. Foster State Park in the Okefenokee Swamp.
Chris didn't answer when we called from the top of the Suwannee River.
When Suwannee Riverkeeper John S. Quarterman met Chris and his crew halfway to Daytona Beach, in Gainesville, Florida, to deliver the kayak, they were still recounting the second call when Chris did answer.

John S. Quarterman recalls that Chris Newton wanted to know if someone had found his keys. I answered, "No, we've got something better than keys. Remember you got a kayak raffle ticket at Hulaween?"
Chris's responses included "No way!" and "Stop it!"
In Gainesville he said he likes the kayak. I guess that's why he and his crew drove four hours round trip to get it.
Merry Christmas, Chris!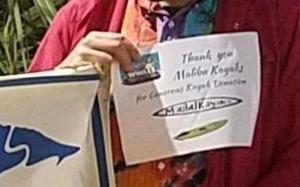 WWALS Acting Executive Director Gretchen Quarterman made the sign that says, "Thank you, Malibu Kayaks, for generous kayak donation." She adds, "Thanks to John Phillip Ramsey for facilitating that donation."
WWALS Outings Chair Phil Hubbard made the WWALS Kayak Raffle sign. He says, "Special thanks to everyone who got a raffle ticket. All proceeds go to the work of WWALS Watershed Coalition and Suwannee Riverkeeper, addressing many issues for swimmable, fishable, drinkable water."
About WWALS Watershed Coalition, Inc. (WWALS)
WWALS advocates for conservation and stewardship of the Withlacoochee, Willacoochee, Alapaha, Little, and Suwannee River watersheds in south Georgia and north Florida through education, awareness, environmental monitoring, and citizen activities.
Founded in June 2012, WWALS has supported solar power and has opposed the Sabal Trail fracked methane pipeline since 2013. Other issues include wastewater spills from Valdosta and other cities, corporate agriculture, coal ash, banning fracking, and phosphate mining. We do monthly paddle outings and frequent cleanups, overflights and scouting hikes, commission meetings and position papers, along with occasional legal actions.
John S. Quarterman is the Suwannee Riverkeeper®, which is a staff position and a project of WWALS Watershed Coalition (WWALS) as the Member of the Waterkeeper® Alliance for the Suwannee River basin.
Contact:
Gretchen Quarterman, Acting Executive Director
WWALS Watershed Coalition
P.O. Box 88
Hahira, GA 31632
www.wwals.net
wwalswatershed@gmail.com
850-290-2350
John S. Quarterman, Suwannee Riverkeeper
www.suwanneeriverkeeper.org
contact@suwanneeriverkeeper.org
229-242-0102
===
-jsq, John S. Quarterman, Suwannee RIVERKEEPER®
You can join this fun and work by becoming a WWALS member today!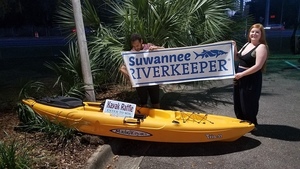 Look at that, Palmettos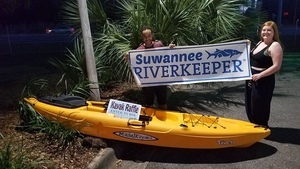 Happy winner, Palmettos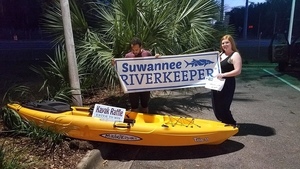 Admiring the prize, Palmettos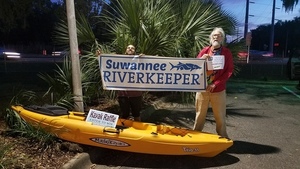 Looking up, Palmettos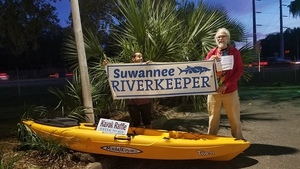 For me?, Palmettos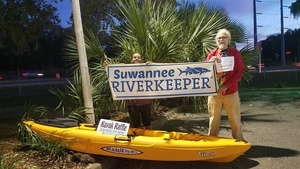 Chris Newton and his new kayak, Palmettos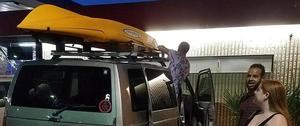 Up top, Loading up


He likes it, Loading up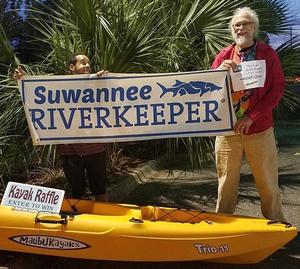 Thank you, Malibu Kayaks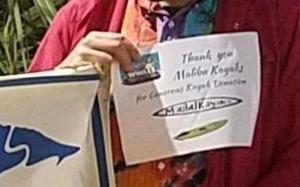 For generous donation, Malibu Kayaks
Short Link: