Chairman Lace Futch had a few words about my grandfather and a few questions, then he asked me to read the BE IT RESOLVED part to the Atkinson County Commissioners. They voted unanimously for the resolution to ask the Georgia state legislature to stop diversion of state fees, Thursday January 18, 2018. WWALS Board Member and Atkinson County resident Shirley Kokidko had asked for it to be on the agenda, and she thanked the Commissioners at the end of the meeting for passing it.
See also the resolutions previously passed by Lanier County 2018-01-08 and the City of Adel 2018-01-16.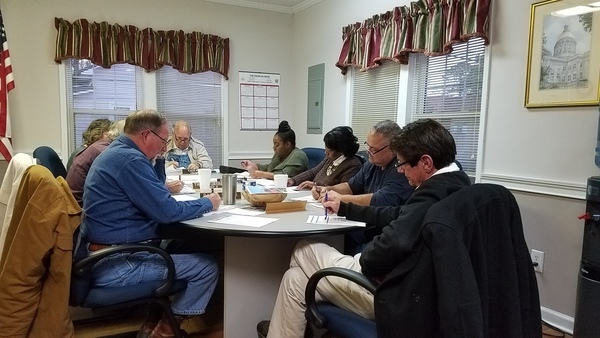 Photo: Atkinson County Commission by John S. Quarterman for WWALS 2018-01-18.
Below is the text of the local resolution; see also PDF and signed PDF.
RESOLUTION NO: _____________

A RESOLUTION OF THE
____________________________________________,
IN THE STATE OF GEORGIA,
REQUESTING THE PASSAGE OF HR 158 (SPONSORED BY REP. JAY POWELL, R-CAMILLA), A MEASURE ALLOWING THE GEORGIA GENERAL ASSEMBLY TO DEDICATE FEE COLLECTIONS FOR THEIR STATUTORILY DESIGNATED PROGRAMS

WHEREAS, Georgia's 159 counties, more than 500 municipalities, local businesses, and citizens annually submit millions of dollars in fees and payments to the state; and

WHEREAS, in many cases these fees were created to aid local governments in implementing programs such as hazardous waste cleanups, clean community programs, indigent defense and judicial programs, peace officer training, and teen driver training; and

WHEREAS, the state government significantly redirects these fees to fund unrelated portions of the state budget; and

WHEREAS, without funding from these fees, local governments often must raise taxes to fund programs designed to keep their citizens healthy and safe; and

WHEREAS, regarding the Hazardous Waste Trust Fund and Solid Waste Trust Fund, nearly 40 percent of the $469 million collected since 1993 has been diverted from its designated purposes; and

WHEREAS, in the case of the teen driving program known as Joshua's Law, which generates between $3-$10 million annually, only about $8 million has been used to fund teen driver programs since the program's creation in 2005; and

WHEREAS, with respect to the Peace Officer & Prosecutors Training Fund that generates an estimated $27 million annually, an estimated $70 million was redirected to fund unrelated portions of the state budget between 1987 and 2009; and

WHEREAS, because of these diversions of fees, tire dumps and hazardous waste sites remain untouched, teen drivers have inadequate guidance, and peace officers cannot get funding for additional and necessary training programs; and

WHEREAS, these diversions of fees are therefore detrimental to the health, safety, and welfare of our citizens; and

WHEREAS, the Georgia Municipal Association and the Association County Commissioners of Georgia support legislation to end the practice of these fee collections becoming de facto taxes.

NOW, THEREFORE, BE IT RESOLVED BY THE _______________________, IN THE STATE OF GEORGIA, AS FOLLOWS:

that the ________________ supports legislative efforts to address this ongoing funding problem for local governments by adopting a constitutional amendment authorizing the General Assembly to establish dedicated trust funds.

BE IT FURTHER RESOLVED that the Georgia General Assembly should adopt a resolution on this issue, such as HR 158, during the 2018 legislative session so that a constitutional amendment can by put before voters in November 2018.

BE IT FURTHER RESOLVED that the Governor of the State of Georgia should sign and approve such constitutional amendment resolution.

ADOPTED by the _____________________________, in the State of Georgia, this _____ day of ____________, 2018.

Upon adoption of this resolution, copies of the full resolution shall be mailed or electronically submitted to the Governor, Lt. Governor, Speaker of the House of Representatives, and the local legislative delegation.
-jsq, John S. Quarterman, Suwannee RIVERKEEPER®
You can join this fun and work by becoming a WWALS member today!
Short Link: