Update 2018-04-16: Tickets now available!
FOR IMMEDIATE RELEASE
Valdosta, GA, April 5, 2018 — WWALS Watershed Coalition (Suwannee Riverkeeper) announces a Wild & Scenic Film Festival at Mathis Auditorium in Valdosta as a natural extension of WWALS' work to inspire people to act for fishable, swimmable, drinkable waters.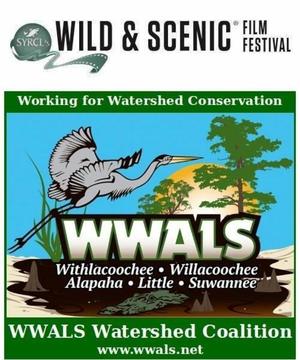 When: 7PM, Thursday, May 31, 2018
Where: Mathis Auditorium,
2300 North Ashley Street, Valdosta, GA 31602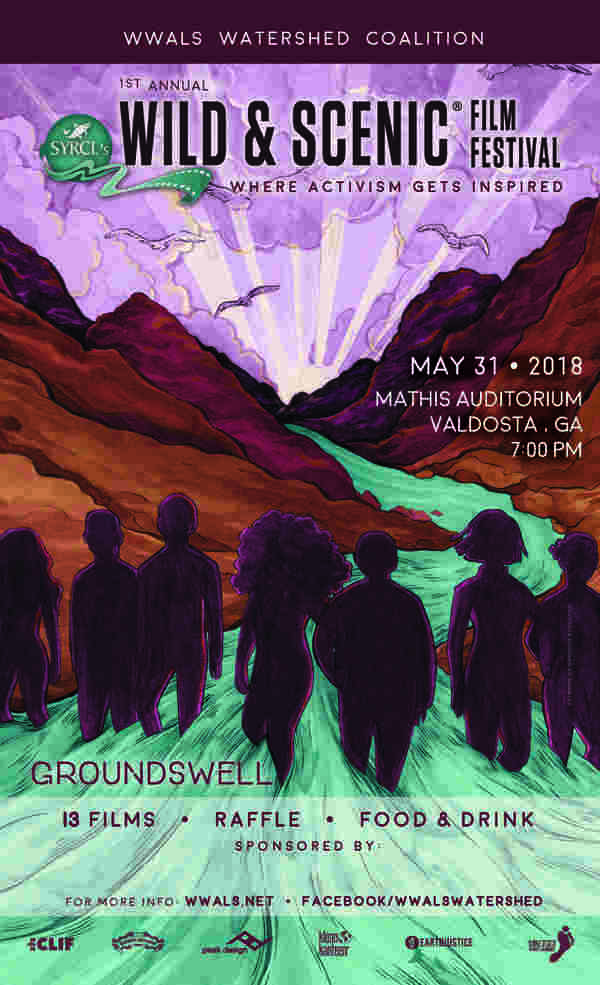 To print this poster, use the PDF.
Tickets: Available at the door, and pre-sale tickets will be available soon are available online and on paper now.
What: Wild & Scenic focuses on films which speak to the environmental concerns and celebrations of our planet. Celebrating fifty years of Wild and Scenic River designations by Congress, this film festival showcases frontline issues and activism with stunning cinematography. Now, more than ever, it is imperative that individuals propel the groundswell of the environmental movement. Collectively, we CAN make a difference!
The Films: Featured at the tour event in Valdosta, GA will be films about family outdoor experiences, local foods, water conservation, and the health of our oceans. Prepare to be inspired.
Names: Jimmy Carter narrates how paddling opened his eyes to our rivers, and Carl Sagan explains the Pale Blue Dot contains everything we have ever known.
Sponsors: Many opportunities are available to associate your organization's name with fishable, swimmable, drinkable water by sponsoring this film festival.
About WWALS: Founded in June 2012, WWALS Watershed Coalition, Inc. (WWALS) advocates for conservation and stewardship of the Withlacoochee, Willacoochee, Alapaha, Little, and Suwannee River watersheds in south Georgia and north Florida through education, awareness, environmental monitoring, and citizen activities. John S. Quarterman is the Suwannee Riverkeeper®, which is a staff position and a project of WWALS as the Member of Waterkeeper® Alliance for the Suwannee River Basin.
Contact: Gretchen Quarterman, Executive Director
WWALS Watershed Coalition
wwalswatershed@gmail.com
850-290-2350
PO Box 88, Hahira, GA 31632
===
-jsq, John S. Quarterman, Suwannee RIVERKEEPER®
You can join this fun and work by becoming a WWALS member today!
Short Link: