Update May 21, 2018: New location: The Salty Snapper, Valdosta, GA.
Update May 15, 2018: Deadline extended to Friday, June 1, 2018!
FOR IMMEDIATE RELEASE
Live Oak, FL, April 2, 2018 — Submissions are now open for the First Annual Suwannee Riverkeeper Songwriting Contest. Soon there will be more songs about the Suwannee River than the one everybody knows, and also about the Withlacoochee, the Alapaha, and more; don't forget the Okefenokee Swamp. Stephen Foster never saw the Suwannee River, so songwriters don't have to live here to submit, but they do have to be present to win.
Deadline: Submissions must be received by midnight Eastern time at the end of Sunday May, 13, 2018. The Songwriting Contest Committee will select seven finalists and announce them on Saturday, May 19, 2018.
Enter: Here is the Entry Form.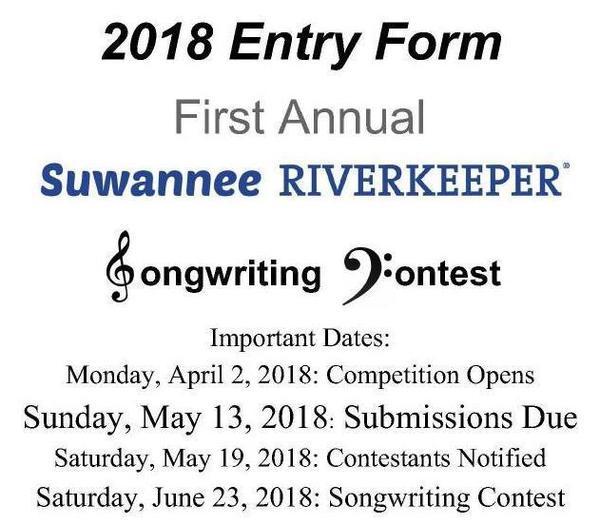 The Contest: The finalists will perform in Valdosta, Georgia, Saturday, July 23, 2018, plus a silent auction, a kayak raffle, and of course food and drink.
Prizes: Judges will award Continue reading →