FPL's planned-for-a-decade pipeline to the sea just happens to connect Sabal Trail with an LNG export port. Nevermind that this MR-RV Lateral was never run through the FERC permitting process: FERC rolled it into Florida Southeast Connection.
Susan Salisbury, Palm Beach Post, 10 March 2012 (updated 31 March 2012), FPL proposes 32-mile natural gas pipeline for Riviera Beach plant,
FPL is seeking state approval for a 32-mile natural gas pipeline to provide an uninterrupted supply to Florida Power & Light Co.'s new Riviera Beach plant.

Map: Palm Beach Post, 31 March 2012.
The story said FPL was working with FDEP to determine the final route. It also said:
The project is not related to FPL's proposed $1.5 billion, 300-mile natural gas pipeline that would have run from Bradford County to Martin County. The Florida Public Service Commission rejected that project in 2009.
Well, in March 2012 the RBEC Lateral was not related to the 2009 EnergySecure Pipeline, because that former pipeline never existed: FPSC directed FPL to some up with another plan, which turned out to be Sabal Trail. Nevermind the RBEC Lateral was literally on the map for EnergySecure. While that map labeled the path of this 32-mile RBEC lateral as "Existing FPL 18″ Gas/Oil Line from Martin Plant to 45th Street Terminal," it also wrote right next to RBEC: "Proposed Lateral."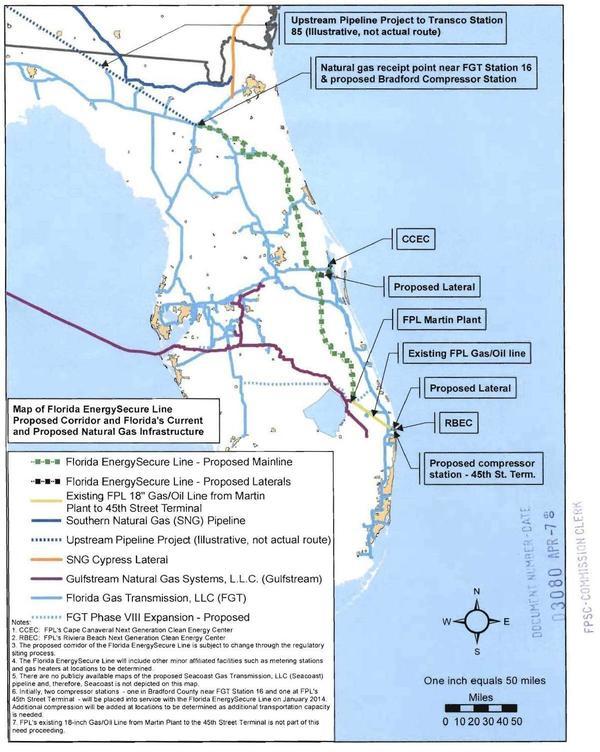 "PETITION APPENDIX "A", MAP OF: ALL EXISTING, APPROVED & PROPOSED NATURAL GAS TRANSMISSION PIPELINES & PROPOSED CORRIDOR OF THE FLORIDA ENERGYSECURE LINE," "IN RE: FLORIDA POWER & LIGHT COMPANY'S PETITION TO DETERMINE NEED FOR FLORIDA ENERGYSECURE LINE," FL-PSC Docket 2009072, 7 April 2009, Florida Public Service Commission.
This 32-mile (or 38-mile) 24-inch (or 20-inch or 18-inch) steel pipeline was build by Diamond K. Corp. and Troy Construction, "both based in Texas". Troy may sound familiar as one of the contractors for Sabal Trail.
This FPL pipeline to the sea is hard to track, because it has gone under many different names: RBEC Lateral, Riviera Lateral, or Martin-Riviera Natural Gas Pipeline Lateral and related equipment ("MR-RV Lateral"). Under that last name, in March and June 2018 FPL asked FERC and FPSC to roll it into Florida Southeast Connection (FSC). Nevermind that FPL redacted what FSC would charge and future cost projections, so the rate-paying and tax-paying public doesn't know what they're in for. Nevermind that MR-RV was not permitted along with FSC, Sabal Trail, and the Hillabee Expansion Projet in the Southeast Market Pipelines Project (SMPP).

Indiantown to Riviera Beach, in FERC 20180309-5230, Docket CP18-108.
Despite all the different names and lack of FERC environmental or other assessment, on 6 August 2018, FERC approved rolling the Riviera Lateral into FSC, and on 10 September 2018 FSC informed FERC that combined service had commenced 1 September 2018.
It's pretty clear this FPL pipeline to the sea was planned since 2009 or before, and just happened not to be included in SMPP, getting rolled in later.
Also, Crowley Maritime's Carib Energy, the same shipping company that is sending liquid natural gas (LNG) from Jacksonville, Florida, to Puerto Rico, also has authorization from the U.S. Department of Energy Office of Fossil Energy:
Carib indicates that exports may occur from the ports of Jacksonville, West Palm, Miami, Pensacola, and Tampa, Florida; Mobile, Alabama; Gulfport, Mississippi; Savannah, Georgia; New Orleans, Louisiana; and Houston and Galveston, Texas.
DOE/FE Order No. 3487, Carib Energy (USA) LLC, FE Docket No. 11-141-LNG, FINAL ORDER GRANTING LONG-TERM MULTI-CONTRACT AUTHORIZATION TO EXPORT LIQUEFIED NATURAL GAS IN ISO CONTAINERS BY VESSEL TO NON-FREE TRADE AGREEMENT NATIONS IN CENTRAL AMERICA, SOUTH AMERICA, OR THE CARIBBEAN, 10 September 2014.
According to the Port of Palm Beach website,
Located in Riviera Beach, the Port of Palm Beach is a full-service, diversified port, offering cruise and cargo services to more than 30 onsite tenants and users. At 162 acres, the Port's efficiency is unparalleled, processing more than $7 billion in commodities, 2.5 million tons of cargo, and 700,000 cruise passengers annually.
Port of Palm Beach is about 300 feet from the nominal destination of the MR-RV Lateral, FPL's "Palm Beach Plant", aka the Riviera Beach Next Generation Clean Energy Center.
So this is yet another example of how the pipeline companies are in cahoots over many years and many locations, and the pipeline permitting process is a sham.
Maybe you'd like to help support the WWALS pending lawsuit about LNG export.
Help stop FERC shirking its LNG oversight duty.
-jsq, John S. Quarterman, Suwannee RIVERKEEPER®
You can join this fun and work by becoming a WWALS member today!
Short Link: