Update 2019-03-28: Video.
Charlie Walker came by the WWALS booth at Azalea Festival yesterday and invited Gretchen to be on his radio show, Wednesday morning.
When: 8:18 AM, Wednesday, March 11, 2019
Where: 99.5 FM, or listen online.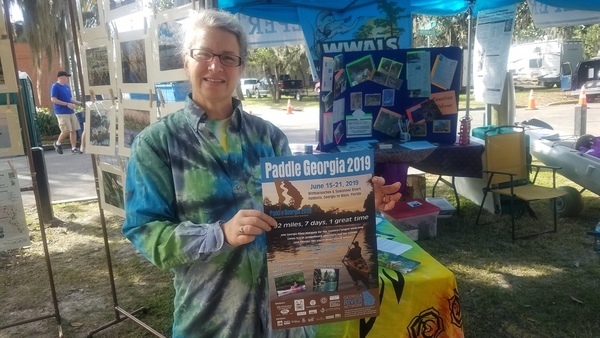 Gretchen Quarterman at Azalea Festival, Saturday, 9 March 2019.
Gretchen will talk about outings and festivals, such as (formatting fixed 2019-03-13)
And of course WWALS advocacy, including
According to 99.5 Kix Country:
Shotgun was born in Albany, Georgia and joined his first radio station at the young age of 15. After high school, he joined The U.S. Army earned degrees from Maryland and Central Texas. After that, he toured with such bands as Little Texas, Sawyer Brown and Robin Lee before returning to his first love of radio. In 2004 he signed on at WKAA 105.9 later to become 99.5 Kix Country. Although he has left to try other things he has returned to where it all began in Kix Country.
For more WWALS outings and events as they are posted, see the WWALS calendar or the WWALS outings and events web page. WWALS members also get an upcoming list in the Tannin Times newsletter.
-jsq, John S. Quarterman, Suwannee RIVERKEEPER®
You can join this fun and work by becoming a WWALS member today!
Short Link: