Update 2019-04-12: Videos.
Update 2019-03-14: The Valdosta City Clerk says the Valdosta City Manager says "the public will have an opportunity to speak."
As discussed in Lake City when the dozen downstream Florida counties passed their resolution, and as foreshadowed by Emma Wheeler on WCTV, and now confirmed by Valdosta City Clerk Teresa Bolden, elected officials from Valdosta and twelve Florida counties will meet to discuss Valdosta wastewater spills and how to stop them. She also confirmed that since there will be a quorum of the Valdosta City Council there, this will be a public meeting.
When: 6PM, Wednesday, April 10, 2019
Where: General Purpose Room,
Valdosta City Hall Annex,
300 North Lee Street, Valdosta, GA 31601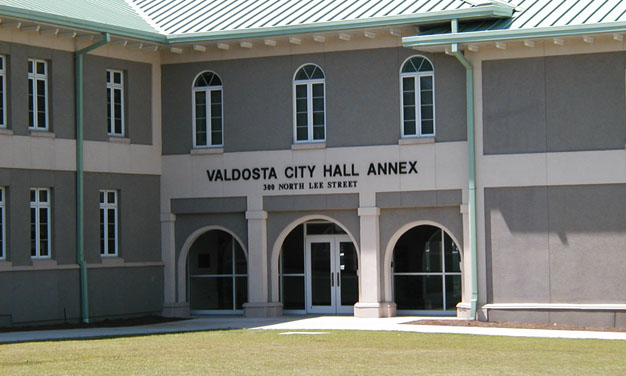 Photo: Ellis, Ricket & Associates.
It's not clear the public will be able to speak, but you can come and see for yourself. As I told the Valdosta City Clerk, this afternoon I already invited the Suwannee River Water Management District and everybody else who was in their meeting. Valdosta will probably publish an announcement soon, but so far we at least know the meeting will happen and it will be public. Y'all come.
Back on February 28th in Lake City, when the downstream counties thought Valdosta would not agree to meet with them as they requested, they planned to each send a delegate to the March 21st Valdosta City Council meeting to speak in Citizens to Be Heard. I imagine they probably won't do that now, since they got their request for the type of meeting they wanted.
It's not clear what outcome can be expected on March 10th, but at least they're going to be talking directly. So far as I know that has never happened before among these groups of elected officials.
That alone may help persuade both states that the situation needs funding for testing and fixes.
Testing to find out how far spills really go down the rivers and underground, and to find other sources of contamination.
Fixes for the sewage spills, including Valdosta (and Tifton and Quitman and the other cities) and other human and non-human sources.
More testing after fixes, to show improvement, to deal with the stigma of sewage in the Withlacoochee, Alapaha, and Suwannee Rivers, so that the counties can rebuild their eco-tourism.
-jsq, John S. Quarterman, Suwannee RIVERKEEPER®
You can join this fun and work by becoming a WWALS member today!
Short Link: