A month ago at Beatty Branch:
"Everything in this area depends on groundwater," said John Quarterman, the Suwannee Riverkeeper in Lowndes County, where Moody is located. "I'm not saying that Moody necessarily did make enough contamination to be a problem, but I can't tell from this report, and I don't think it's our responsibility to determine that they didn't."

Photographer Hyosub Shin and Reporter Meris Lutz, The Atlanta Journal-Constitution, online today and in Sunday's Atlanta paper newspaper, Contaminated groundwater, a toxic legacy of Georgia's air bases, 3 January 2019.
Moody Air Force Base tested their own wells, and found them clean. Which is good, but

Figure 2 AFFF Area Locations
PDF
their wells are much deeper than the wells the rest of us use in the country around here. Moody did not test any of those wells; I asked them.

Moody Air Force Base, with creeks draining it to the west into the Withlacoochee River Basin, and to the east into the Alapaha River Basin.
The reporter got a longer answer:
In response to questions, a spokesperson for the Air Force wrote that "since results showed no drinking water impacts on base and indicated there was not a pathway or proximity to off-base drinking water supplies, we did not sample outside the installations."

Beatty Branch, with Moody AFB Wastewater Treatment Plant on it.
In a statement, the Air Force said its response is constrained by a lack of regulation for PFAS chemicals. The two that are the focus of most testing are known as PFOS and PFOA.

"Because PFOS/PFOA are unregulated and Georgia or federal entities have not established standards for non-drinking water sources, we cannot expend government resources on those water sources," the Air Force said.


Hyosub Shin photographing Beatty Branch. The 2016 report from Moody AFB warns against eating fish caught in Beatty Branch or Cat Creek due to contamination from Moody.

Its authority to mitigate contamination "does not extend to risks posed to livestock and agriculture, to include indirect threats to humans through ingestion of plants and animals," it added.

Figure 25 Waste Water Treatment Plant (AFFF Area 8) PFBS, PFOA, and PFOS in Soil and Sediment
PDF
It seems to me that if the base has the authority to contaminate our groundwater it should have the authority to find out where it went.
Quarterman, who lives just a few miles from Moody on the same land where his family has lived for generations, finds the Air Force's limited testing troubling.


Beatty Branch running from Moody AFB WTP to Cat Creek

As a riverkeeper, he monitors water pollution and organizes boat trips that encourage locals and visitors alike to reconnect with the natural world.


Context: Withlacoochee River to the west, Moody AFB, Alapaha River to the east.

"I'm concerned with swimmable, fishable, drinkable waters," Quarterman said. "I don't quite understand how anyone can release harmful chemicals and not be concerned about the [e]ffects on wildlife, especially fish that people eat."


Suwannee Riverkeeper John Quarterman and Lowndes County resident Debra Tann at Beatty Branch near Moody Air Force Base, which was contaminated by a special firefighting foam used by the military. Tann's well is less than a mile from the base, and she and Quarterman expressed concern about the pollution of groundwater by the Air Force. HYOSUB SHIN / HSHIN@AJC.COM Photo: The Atlanta Journal-Constitution

"I'm very concerned, because I live practically adjacent to the base," said Debra Tann. Tann, an educator married to a retired Navy veteran with family ties to the area, has lived on Radar Site Road, less than a mile from Moody, for more than 20 years. Her well only goes down 230 feet, which could make it more vulnerable to contamination.


Figure 27 Generalized Hydrogeologic Cross Section, Lowndes County, Georgia
PDF

Tann added that her husband often fishes from local creeks and rivers that could have been polluted with cancer-causing chemicals. Although the Air Force is not focused on environmental impacts, the site inspection report for Moody found that recreational activities on affected waterways, "could provide an exposure pathway to humans through dermal contact, ingestion of impacted water, and ingestion of fish."


Figure 26 Waste Water Treatment Plant (AFFF Area 8) PFBS, PFOA, and PFOS in Groundwater and Surface Water
PDF

"Moody needs to be forthright, certainly, with information," Tann said.
It's not just the populated areas that are of concern.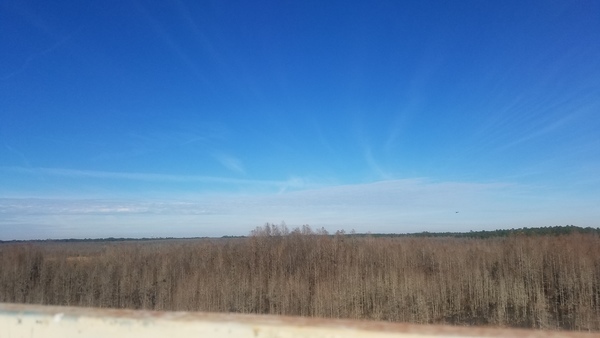 Helicopter approaching Moody AFB
The base, which started as a flight training facility during World War II, sits 14 miles northeast of Valdosta. It's bisected by Beatty Branch creek, which ultimately flows into the Withlacoochee River. Surface water from the base runs south into Grand Bay Swamp, a protected wildlife refuge and the state's second largest blackwater wetland after the Okefenokee Swamp, home to fish, alligators and migrating birds.
I also emphasized repeatedly to the reporter the economic and cultural importance of Moody Air Force Base hereabouts, although that did not get into the story.

Figure 1 Location of Moody Air Force Base, Lowndes County, Georgia
PDF
It's not as if Air Force Bases are unique. Today we read about the same chemicals in wells near the Florida State Fire College in Ocala, Florida: Florida health officials delayed notifying residents about tainted water, emails show, Samantha J. Gross and Elizabeth Koh, Miami Herald, 3 January 2019 (found by WWALS Science Committee Chair Tom Potter).
In August, the Department of Environmental Protection confirmed that flame retardants containing perfluorooctane sulfonate (PFOS) and perfluorooctanoic acid (PFOA) had been used at the Fire College in the past. In early September, the college was told to only drink bottled water.

Lawson's home was one of three well sites — a Marion County fire station and Texas-based mining company Lhoist North America were the others — where preliminary tests indicated the water had elevated levels of the PFOS and PFOA chemicals, which early studies have suggested can be carcinogens. Other impacts in humans include high cholesterol, thyroid disorders, adverse reproductive and developmental effects and some types of cancer.

It took about four months for state health officials to notify Lawson and others in the community about potentially elevated levels of the chemicals, emails obtained by the Herald/Times show. In September state health officials began discussing means of informing the Fire College, but it wasn't until late October that they discussed notifying the rest of the nearby community. While state health officials debated for months how to word messages to those affected and put off informational open houses because of Hurricane Michael, neighbors bickered with local health officials asking when their water would be tested. Some preemptively began buying cases of water each week, fearing their own wells might be contaminated.
If wells near that Florida pollution source can be contaminated, how can we know wells near Moody AFB are not contaminated by the same chemicals, unless somebody tests?
Debra Tann and I will be talking to a local reporter tomorrow afternoon, so stay tuned for more on this story.
Meanwhile, here's how AJC reporter Meris Lutz found that Moody AFB report:
Follow this link:
http://afcec.publicadmin-record.us.af.mil/Search.aspx
On the left in the long list of bases click on Moody.
Scroll down and a lengthy list of dated documents appears.
One of the ones for 12/31/2016 is the one we seek:
Final Site Inspection Report of Fire Fighting Foam Usage at Moody Air Force Base Lowndes County, Georgia
All the images used here with Figure numbers are from that report.
There's also a PDF copy of the report on the WWALS website. It is quite large: 22 megabytes, but also quite informative. Except there's nothing in it about testing private water wells.
-jsq, John S. Quarterman, Suwannee RIVERKEEPER®
You can join this fun and work by becoming a WWALS member today!
Short Link: