On the front page of the newspaper of record in the biggest city in the Suwannee River Basin, yesterday in the Valdosta Daily Times, is a story by Terry Richards about the GA-PSC report on the AGL pipeline and the August 2018 Homerville, GA explosion that destroyed a coffeeshop and sent three women to the hospital with third-degree burns.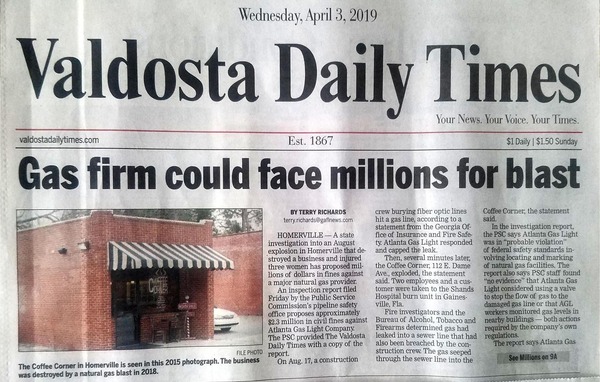 The VDT did a bit of reporting by contacting AGL and its contractor:
Asked for comment, Atlanta Gas Light issued the following statement Monday: "We have received | the Georgia Public Service Commission Staff's investigation report associated with the August 2018 incident in Homerville, Georgia. The Company will review and respond to the report in accordance with the Commission's procedures."

The Times reached out to USIC for comment, but phone calls and emails had not been answered by press time.
Meanwhile, Tom Krause, Public Information Officer, Georgia Public Service Commission, has provided this clarification:
AGL did not properly mark or locate the gas line and the sewer line. As a result, the gas did travel through the sewer pipe as originally discussed.
Krause also sent more information, which will be in another blog post.
-jsq, John S. Quarterman, Suwannee RIVERKEEPER®
You can join this fun and work by becoming a WWALS member today!
Short Link: