JEA "specifically declined the invitation" by the Baker BOCC to come talk about EZBase, a road pavement material made from coal ash, and spread on roads and parking lots in Baker County, Florida. FDEP accepted an invitation and will present this Tuesday. The Baker (FL) BOCC and Mark Lyon invite everyone to that meeting.
When: Meeting starts 5PM, FDEP presentation about 6PM,
Tuesday, April 16, 2019
Where: Baker County Courthouse, 339 E Macclenny Ave # 113, Macclenny, FL 32063

Photo: Michael Rivera, of Baker County, Florida, Courthouse.
Most of Baker County, including its county seat Macclenny, is in the St Marys River watershed. However, south along FL 121 before the Union County line on the way to Fort Butler, part of Baker County is in the Suwannee River Basin, and we don't know whether EZBase may have been spread on roads there.
Plus JEA shipped coal ash from Jacksonville to the Veolia Pecan Row landfill in Lowndes County, Georgia, which is in the Suwannee River Basin, a quarter mile uphill from the Withlacoochee River and in a Floridan Aquifer recharge zone.
While environmentalists everywhere are celebrating North Carolina DEQ's Order for Duke Energy to Excavate Coal Ash at Six Remaining Sites, let's remember the decision for each of those six sites was "Movement of coal ash to a new or existing lined landfill". We don't want Duke or JEA or other coal ash in our landfills or "recycled" as EZBase and spread on roads. The utilities that created the coal ash should have to bear the expense of disposing of it safely on their own land.
JEA also owns 23.6% of unit 4 at Plant Scherer, the country's dirtiest coal-burning plant, north of Macon, Georgia, which (The other 76.4% of unit 4 is owned by FPL. And since FPL's parent NextEra Energy bought Gulf Power from Southern Company, presumably NextEra now owns 25% of unit 3, as well.) Mercury goes up in smoke from Plant Scherer and comes down in our Alapaha River.
Mike Anderson, Baker County Press, 11 April 2019, "BAKER COUNTY COMMISSION: FDEP slated to discuss EZBase,"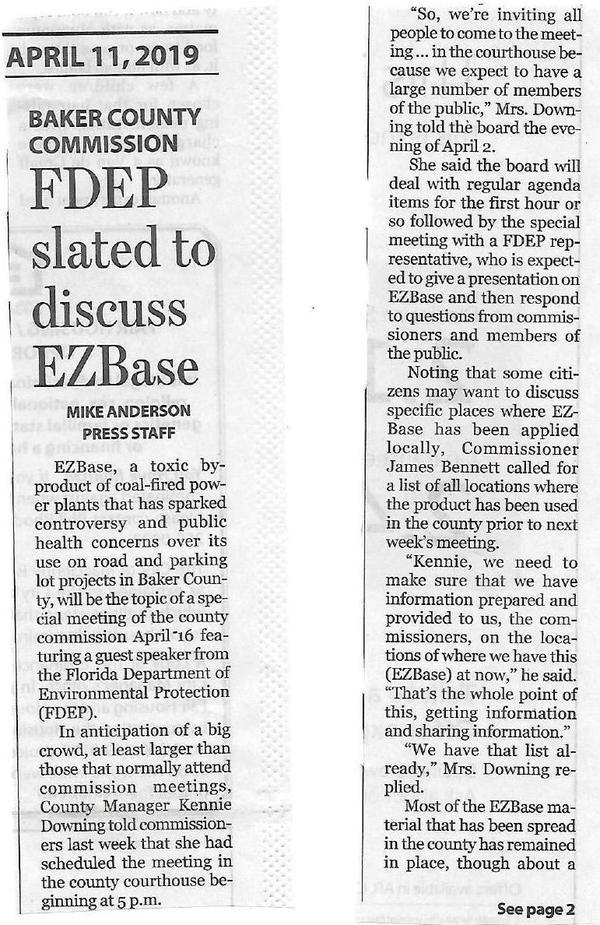 EZBase, a toxic by-product of coal-fired power plants that has sparked controversy and public health concerns over its use on road and parking lot projects in Baker County, will be the topic of a special meeting of the county commission April 16 featuring a guest speaker from the Florida Department of Environmental Protection (FDEP).

In anticipation of a big crowd, at least larger than those that normally attend commission meetings, County Manager Kennie Downing told commissioners last week that she had scheduled the meeting in the county courthouse beginning at 5 p.m.

"So, we're inviting all people to come to the meeting… in the courthouse because we expect to have a large number of members of the public," Mrs. Downing told the board the evening of April 2.
The article says the part of the meeting involving FDEP will probably start around 6PM, including a presentation about EZBase and questions from Commissioners and the public.
Noting that some citizens may want to discuss specific places where EZBase has been applied locally, Commissioner James Bennett called for a list of all locations where the product has been used in the county prior to next week's meeting.
Maybe the Baker BOCC could publish this list:
"We have that list already," Mrs. Downing replied.

Most of the EZBase material that has been spread in the county has remained in place, though about a year after being threatened with a lawsuit some was removed in 2018 from certain locations, including the parking lot at Memorial Park in Macclenny, a popular gathering spot for families and children commonly known as the Duck Pond.

The material had remained uncovered for nearly a decade before it was scraped up, hauled off and replaced with lime rock last September.

In an effort to get to the bottom of the controversy surrounding EZBase and try to separate fact from fiction, commissioners agreed on March 5 to schedule a meeting with an environmental expert from FDEP and with a representative from Jacksonville Electric Authority (JEA) — the source of the coal ash material that wound up in Baker County, mostly as a paved road base material but also as the final surface at the Duck Pond and Veterans Memorial Park on the north side of Macclenny Avenue near the South Prong of the St. Marys River.

"If we're going to have one here we ought to have the other one here," Commissioner Bennett said last month.

FDEP, however, was the only agency to accept the county's invitation. After last week's meeting Mrs. Downing said the JEA had specifically declined the invitation.

Mark Lyons, an environmental activist who lives in Glen St. Mary, has been urging the county for years to remove all EZBase from Baker County due to high levels of toxic contaminants — including arsenic, chromium, vanadium, mercury and selenium — that were disclosed in soil tests he paid to have conducted in 2013 by Advanced Environmental Laboratories, Inc., in Gainesville.

In a letter published on the editorial page of The Baker County Press on April 4, Mr. Lyons again pleaded with the county to get rid of all remaining EZBase, adding that he had soil samples from "multiple locations in Baker County that had uncovered EZBase and they all have toxins that far exceed allowable limits."

"There are extremely high levels of toxins in uncovered EZBase in Baker County. We know this from the multiple test results we have," Mr. Lyons said in his letter, also finding fault with the county for "ignoring the cleanup of a known toxic substance."

"It's no longer JEA's problem because they pawned it off on us. This is now Baker County's problem solely. Address the issue and don't ignore it any longer."

Mr. Lyons concluded by stating that Baker County "deserves not to be a dumping ground for any toxic industrial waste byproduct."
-jsq, John S. Quarterman, Suwannee RIVERKEEPER®
You can join this fun and work by becoming a WWALS member today!
Short Link: