This is a letter Practicing Geologist Dennis J. Price wrote for publication.
December 12, 2016

RE: North Florida Regional Water Supply Partnership

About 5 years ago, a report prepared for the Suwannee River Water Management District (SRWMD) indicated that under North Columbia County, East Hamilton County and Baker County, ground water levels in the Floridan aquifer (the aquifer the majority of us citizens get our water from) had dropped about 20 feet, more or less. The effects of the loss of that 20 feet was first felt and is very obvious in White Springs, 13 miles north of Lake City. The spring quit flowing for all intents and purposes. Tourism and the Towns economy plummeted.


2019-04-03 White Sulfur Spring Flowing, so unusual an event it was reported for SRWMD by their Senior Hydrologist Fay Baird.

The report placed the greatest blame for the drawdown on water use by the coastal communities of South Georgia and North Florida. Scientists from the St. John's River Water Management District (SJRWMD) at first concurred with this assessment. After objections from the Jacksonville Electric Authority (JEA) and the removal of several key employees at the SJRWMD, the SJRWMD said they weren't sure anymore and a study needed to be done.

So, you guessed it, a committee was formed, The North Florida Regional Water Supply Partnership (NFRWSP). Don't get me wrong regarding this committee, it is probably the single most important committee ever formed in our area. Their plans will affect the continued growth of North Florida communities along with the economy and recreational opportunities in our lakes and rivers.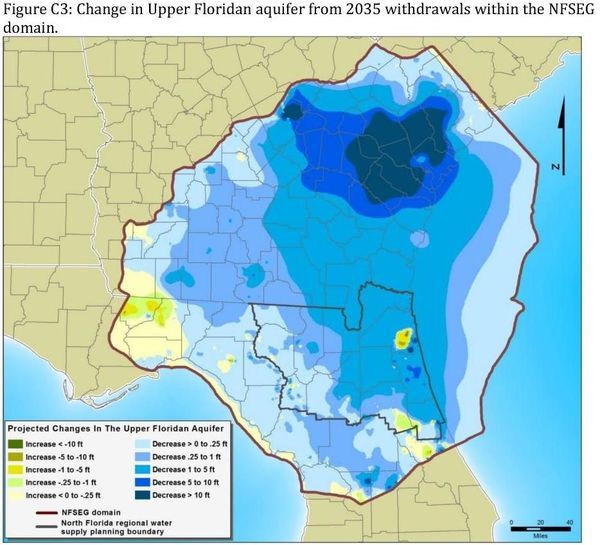 The NFRWSP's job Continue reading →