Valdosta wastewater is back on the agenda at SRWMD, for Tuesday morning.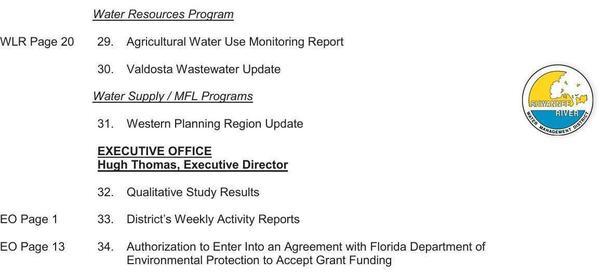 When: 9AM, Tuesday, May 14, 2019
Where: SRWMD District HQ, 9225 Co Rd 49, Live Oak, FL 32060
What: "Water Resources Program
WLR Page 20 29. Agricultural Water Use Monitoring Report
30. Valdosta Wastewater Update"
The WLR packet document with those two items did not seem to be included in the board packet.
I have left a message with Darlene Velez, head of SRWMD water quality testing, to get some more information.
Also on the agenda are a couple of Executive Office items that could be relevant:
32. Qualitative Study Results

EO Page 13

34. Authorization to Enter Into an Agreement with Florida Department of Environmental Protection to Accept Grant Funding
We shall see.
-jsq, John S. Quarterman, Suwannee RIVERKEEPER®
You can join this fun and work by becoming a WWALS member today!
Short Link: