On May 11, we met to organize the WWALS Advisory Committee. Agriculture, Forestry, and Water were big topics. Thanks to Joe West, Assistant Dean of the Campus at the University of Georgia, Tifton, for many good suggestions of Committee members, and the use of his office for the meeting.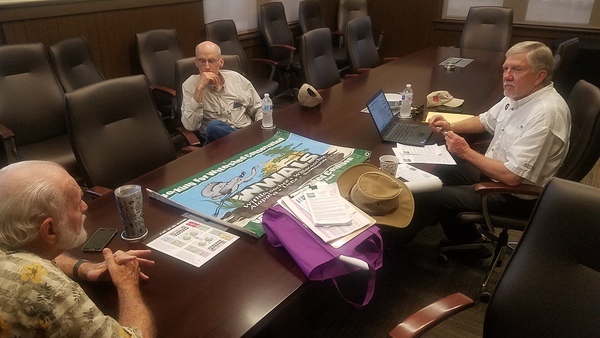 Photo: John S. Quarterman, of Advisory Committee Chair Dave Hetzel, WWALS Board Delegate Bret Wagenhorst, Committee Member UGA Tifton Asst. Dean Joe West, Suwannee Riverkeeper John S. Quarterman (hat).
We will meet there again on Thursday, June 13, 2019. If you would like to be a WWALS Advisor, helping us out with advocacy, events, legislation, and yes, undraising, let us know. See our Vision, Mission, Goals, Issues, Outings and Events, and Fundraising. Don't worry: nobody has to try to do all that. Advisors can specialize.
Here Joe West looks out of his office window at the Centennial Garden, which was dedicated one week before, at his suggestion. Continue reading →