Update 2019-05-30: Map of shoals and springs along the way.
Wild and beautiful Withlacoochee River to the Confluence. We will pass numerous rocky shoals requiring some skills so this outing may not be appropriate for beginners and young children. There are clear springs to explore, such as Suwannacoochee Spring at Ellaville. This is a preview of part of Paddle Georgia 2019. #PaddleGA2019
When: Gather 8:00 AM, launch 9:30 AM, Saturday, June 1, 2019
Put In: Allen Ramp, From Jasper, travel north on US 41 to SR 6; turn left; travel south on SW CR 141 to SW CR 143; turn right and follow SW CR 143 to SW 64 Way and follow to ramp. Also known as CR 143 ramp (SRWMD).
Take Out: Suwannee River State Park Ramp, 3631 201st Path, Live Oak, FL 32060, in Suwannee County.
Taking out requires a very brief paddle upstream on the Suwannee River.
Bring: the usual personal flotation device, boat paddles, food, drinking water, warm clothes, and first aid kit. Don't forget a rope in case you need to drag your boat across shoals. Also trash pickers and trash bags: every WWALS outing is also a cleanup.
Free: This outing is free to WWALS members, and $10 (ten dollars) for non-members. We recommend you support the work of WWALS by becoming a WWALS member today!
Park: Remember to have $5 cash for the state park fee, for each vehicle that will be shuttled to the take out at Suwannee River State Park.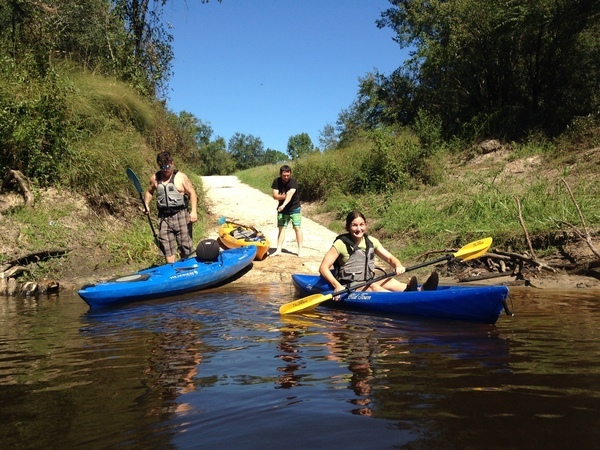 Photo: Gretchen Quarterman, Allen Ramp, 2014-09-21.
Continue reading