Please bring pictures (not costumes) and stories of people to the miners meetings this week in Charlton County, Georgia, about the proposed Twin Pines Minerals titanium mine southeast of the Okefenokee Swamp on Trail Ridge.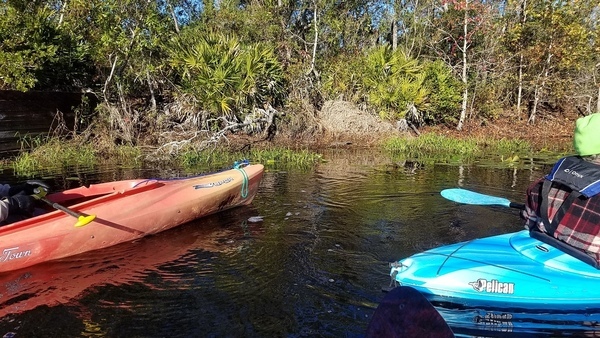 Little gator on the shore, 2017-12-10.
Here are some types of pictures that would be good:
People fishing, paddling, hiking, birding.
People holding binoculars and gazing through high-powered spotting scopes and telephone lenses.
People just looking at gorgeous landscapes of swamps and trees and animals: cypress, longleaf, gators, bitterns, sand hill cranes, gophers, bears, and all the others.
People hunting the waterfowl that fly from their Okefenokee habitat to hunting seasons elsewhere.
All the types of folks who make up the hundreds of thousands who visit the swamp or benefit from it every year, spending the million of dollars and generating the tens of millions of economic effects every year, in a stable and economic fashion.
Bring pictures of other titanium mines and the areas surrounding them to show what this area and around it would look like with such extractive misuse.

Closeup of Chemours mine dredging in Baker County, Florida, on Trail Ridge, viewed from CR 228. More pictures on the WWALS website.
No costumes, just pictures, signs, stories, and handouts.
A few people are proposing this mine to extract profit at everyone else's expense, threatening all those things people care about in the swamp and the rivers.
Many people involved all these ways with the Okefenokee and the rivers can stop the mine.

CR 228, Maxville Macclenny Road
Trail Ridge is easily visible in Florida in these google map aerials because Chemours has mined the top of it.
Upcoming in August 2019 are two Public Meetings by Twin Pines Minerals (these are not public hearings; no decision-making government body is involved in organizing these miners' meetings):
5:30-8:30 PM, Tuesday, August 13, Auditorium, 68 Kingsland Drive, Folkston, GA,
Come early at 4PM. Bring pictures of people with animals and plants or bring a sign if you can.
facebook event
5:30-8:30 PM, Wednesday, August 14, Fire Station Number 2, 13063 Florida Avenue, St. George, GA.
Come early at 4PM. Bring pictures of people with animals and plants or bring a sign if you can.
facebook event
This one is a decision-making governmental body:
6PM, Thursday, August 15, Charlton County Commission, 68 Kingsland Drive, Folkston, GA.
They have already drafted a resolution in support of the mine.
Local people especially, please come say you don't want that,
or at least ask the county to insist on an Environmental Impact Statement first.
No demonstration outside, please; just come in, politely listen, and speak.
Suggestion from St. Mary's Earthkeepers, plus Suwannee:
Feel free to use the following "talking points" in your email:
The Okefenokee Swamp/National Wildlife Refuge/Wilderness is NOT a suitable location for a titanium mine. The Swamp is considered one of the "Seven Natural Wonders of Georgia", is the largest blackwater swamp in North America, and has been designated a National Natural Landmark.
The health of the St. Marys and Suwannee Rivers depends on the integrity of the Okefenokee Swamp, myriad species rely on its wellbeing, and tourism in the area is an economic boon to our region.
The Twin Pines mining project presents unnecessary and unacceptable risks, and I urge the Charlton County Commissioners to oppose this project unless and until a thorough Environmental Impact study shows that no harm will be done to the Swamp, its tributaries, rivers, and future. I am joined in my concern by the Georgia Conservancy, the Southern Environmental Law Center, the Suwannee Riverkeeper, and over 20 other regional and national environmental organizations.
From the U.S. Fish and Wildlife Service:
"We have concerns that the proposed project poses substantial risks for significant affect to the environment. Should impacts occur they may not be able to be reversed, repaired, or mitigated for."

"Titanium is a common mineral, while the Okefenokee is a very uncommon swamp."

"This will likely change its properties and the hydrology of the area."
Please email the following people and ask that your message be shared with all Commissioners.
COUNTY ADMINISTRATOR, HAMPTON RAULERSON
hraulerson@charltoncountyga.gov
County Clerk, Jennifer Nobles
jnobles@charltoncountyga.gov
Chairman James E. Everett
jevephotochristianbooks@windstream.net
Help Suwannee Riverkeeper save the Okefenokee Swamp
You can object to a titanium strip mine proposed far too near the Swamp.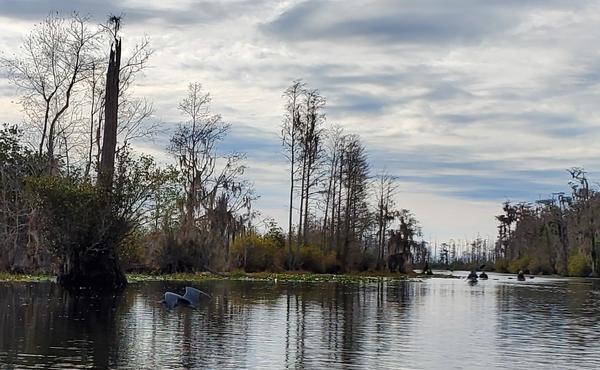 ---
You can write to your Georgia state representative or senator or governor or lieutenant governor and ask them to refuse any such instrument.
Here's a convenient comment form by Georgia Water Coalition:
https://protectgeorgia.org/okefenokee/#/320/
Or to find your legislator you can type in your ZIP code here: http://openstates.org/find_your_legislator/
These are the Georgia state Senators with districts most involved with the Okefenokee Swamp:
District 003 Senator Sheila McNeil (R-Brunswick) (Brantley County), (404) 656-9644, 912.464.1989, sheila.mcneill@senate.ga.gov, info@mcneillforsenate.com With the new redistricting, District 3 will include all of Charlton County, including the mine site.
District 008, Senator Russ Goodman (R-Lake Park) (Lowndes, Lanier, Echols, Clinch, Cook, Brooks, and Thomas Counties), (404) 656-7454, 912-218-0447, russ.goodman@senate.ga.gov, rustingoodman@gmail.com With the new redistricting, Senate District 8 no longer will include any of Charlton County, so not the mine site, but it will include the south and west parts of Ware County, so the Okefenokee Swamp west of the mine site.
District 007 Senator Tyler Harper (R-Ocilla) (Tift, Berrien, Irwin, Ben Hill, Coffee, Bacon, Atkinson, Ware, and Charlton Counties), (404) 463-5263, tyler.harper@senate.ga.gov. His district includes the Okefenokee Swamp, and he is the Chair of the Senate Natural Resources and Environment Committee. With the new redistricting, Senate District 7 goes away entirely, being absorbed by District 8 and District 3.
These are the Georgia state Representatives with districts most involved:
You can also write to your U.S. Representative or Senator and ask them to urge the Corps to take back up its oversight of the mine site. See former letter from Rep. Al Lawson (FL-05).
For the requested Georgia state permit regarding Section 401 of the Clean Water Act, you can send a comment or request for public hearing to
Stephen Wiedl, Wetlands Unit, stephen.wiedl@dnr.ga.gov
Georgia Department of Natural Resources, Environmental Protection Division, Water Protection Branch, 7 Martin Luther King, Jr. Drive, Atlanta, Georgia 30334.
Be sure to mention Applicant: Twin Pines Minerals, LLC, Application Number: SAS-2018-00554.
For the Georgia Coastal Management Program certification, you can send a comment to
Federal Consistency Coordinator, Ecological Services Section, Coastal Resources Division,
Georgia Department of Natural Resources, One Conservation Way, Brunswick, Georgia 31523-9600
Telephone 912-264-7218.
You can also write to the Georgia DNR board, asking them to refuse any such instrument.
Georgia Board of Natural Resources
2 Martin Luther King Jr. Drive, SE, Suite 1252, Atlanta, GA 30334
To submit a letter to the editor of the Charlton County Herald, you can email editor@charltonherald.com.
Or write to your local newspaper.
You can also contact radio, TV, and of course post on social media.
Much more about this mining application is here:
wwals.net/issues/titanium-mining/
-jsq, John S. Quarterman, Suwannee RIVERKEEPER®
You can join this fun and work by becoming a WWALS member today!
Short Link: