The story begins, "When Cindy Leighton set out on the 2019 Paddle Georgia trip on June 15, putting her kayak into the waters of the Little River, she was taking part in something Paddle Georgia hasn't done before — heading to Florida."
WWALS member Cindy Leighton sent us images of this story by Sherri Butler, Herald-Leader, Fitzgerald, Ben Hill County, Georgia, Section B Feature Front, August 28, 2019, Paddle Georgia crosses the line for a river journey spotlighting lue springs of Florida, which goes beyond Paddle Georgia into Water Trails and River Camps.
On the feature front page, Cindy's daughter Patty and son-in-law Bryan Fawcett are pictured.
Nice pictures of a creek, a limpkin, and a turtle, on the continuation page.
And notice this bit:
At the end of the day's paddle lay the Suwannee River Wilderness Trail, a model for water trail development in Georgia. Florida has an extensive system of taxpayers-supported trails with online guide resources and developed launch sites and campsites. The Suwannee Trail's five campsites feature screened sleeping pavilions with electricity and ceiling fans, restrooms with flush toilets and potable water, as well as covered picnic/dining areas Georgia River Network, which sponsors Paddle Georgia, is leading the effort to establish a similar water trail system here and working with state, local and non-governmental partners to improve access to Georgia's rivers.
Our WWALS Withlacoochee and Little River Water Trail (WLRWT) is supported by WWALS members, plus a bit of finance from the Valdosta-Lowndes County, GA, Tourism Authority.
Ditto our Alapaha River Water Trail (ARWT), plus a bit from the Hamilton County, FL, Tourism Council. The ARWT is downstream from Cindy's home Willacoochee River.
For both WLRWT and ARWT we drew heavily from the SRWT. See also our composite map of all boat landings in the Suwannee River Basin.
Get this:
Voters in Rome and Floyd County have recently approved local option sales tax that includes funds for building at least one campsite like Florida's on the Etowah River.
Here's the Dowling Park River Camp on the Suwannee River in Lafayette County, Florida, with notes, pictures, and videos about building a Troupville River Camp at the Little River Confluence with the Withlacoochee River in Georgia, where Paddle Georgia started last summer.
Thanks for paddling, Cindy, and thanks for the newspaper article! And thanks for paddling in the WWALS Boomerang, October 29, 2019.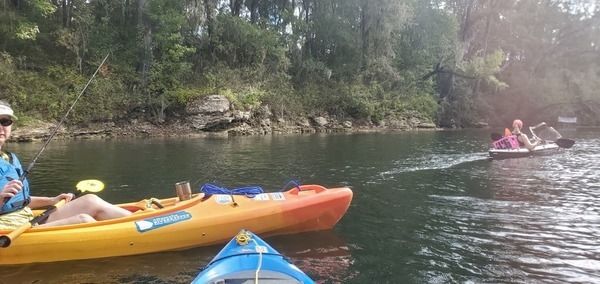 Cindy Leighton with a fishing pole as Becky Garber approaches the three-mile Suwannee Riverkeeper banner, 12:11:55, 30.6274105, -83.2723296
For more WWALS outings and events as they are posted, see the WWALS calendar or the WWALS outings and events web page. WWALS members also get an upcoming list in the Tannin Times newsletter.
-jsq, John S. Quarterman, Suwannee RIVERKEEPER®
You can join this fun and work by becoming a WWALS member today!
Short Link: