Update 2020-05-08: Clean Withlacoochee River until next big rain 2020-05-05.
Good news! WWALS testers found the Withlacoochee River clean Saturday from US 84 (33 cfu/100 mL E. coli) to the state line (zero), and the Little River at GA 76 (also zero) and Okapilco Creek at US 84 (33), too.
Conn and Trudy Cole remarked, "Things were much better this week! We could actually count Crooked Creek. "
WWALS keeps testing, and you can help.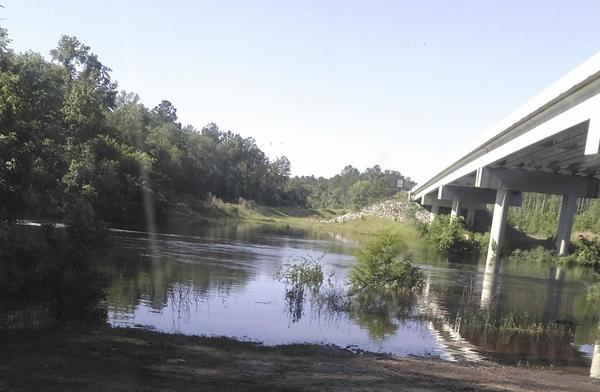 Photo: Suzy Hall, State Line Boat Ramp, Withlacoochee River 2020-05-02
The Coles counted 3,100 at Devane Road.
That's way above the 1,000 alert limit, but lower than the 4,700 I got for there Friday. Actually, the Coles' Saturday number is the lowest WWALS has ever gotten for Crooked Creek @ Devane Road.

Rain diluted this time
For context, including all the previous WWALS posts of water quality testing results, see wwals.net/issues/testing/.
See also What do these numbers mean?
Here's where all those locations are, from WWALS tester Alex Chesna's zero for the Little River @ GA 37 (Adel-Moultrie landing) in the top left, to the Withlacoochee River @ GA 31 (State Line Boat Ramp) in the bottom right.

Map: GA 37 (Adel-Moultrie Landing) to GA 31 (State Line)
in the WWALS WWALS map of the Withlacoochee and Little River Water Trail (WLRWT).
That map for once only goes to the GA-FL line, because we have no new data from Florida in this time period. We also have no new data from Valdosta since Wednesday, April 29, 2020. So the only testing results since then are by WWALS.
For map details of Crooked and Okapilco Creeks, and the Withlacoochee River down to the Suwannee River, see this previous post. It even includes Tifton, GA, to the Gulf of Mexico.

Tifton to the Gulf
In the WWALS map of all public landings in the Suwannee River Basin.
Why do we test water quality? So everyone will have some idea when the rivers are clean enough to paddle, swim, and fish, and when they are not. To get clues to the sources of contamination, so we can contact them and work on fixes. And yes, to keep an eye on what Valdosta is doing.
There are many ways you can help WWALS test and report water quality.
-jsq, John S. Quarterman, Suwannee RIVERKEEPER®
You can join this fun and work by becoming a WWALS member today!
Short Link: