Update 2020-06-13: Florida lifts Withlacoochee River advisory; more rain could mean more contamination 2020-06-11.
The Withlacoochee River from the state line to the Suwannee River looked much better Wednesday, according to FDEP results.
Upstream on the Withlacoochee and Little Rivers and two out of three creeks in Brooks County, not so good, according to samples I took Wednesday.
Valdosta's Wednesday results fill in US 41 (North Valdosta Road), GA 133, and US 84 on the Withlacoochee River. We await Valdosta's Knights Ferry and Nankin Boat Ramp results.
Meanwhile, you can help.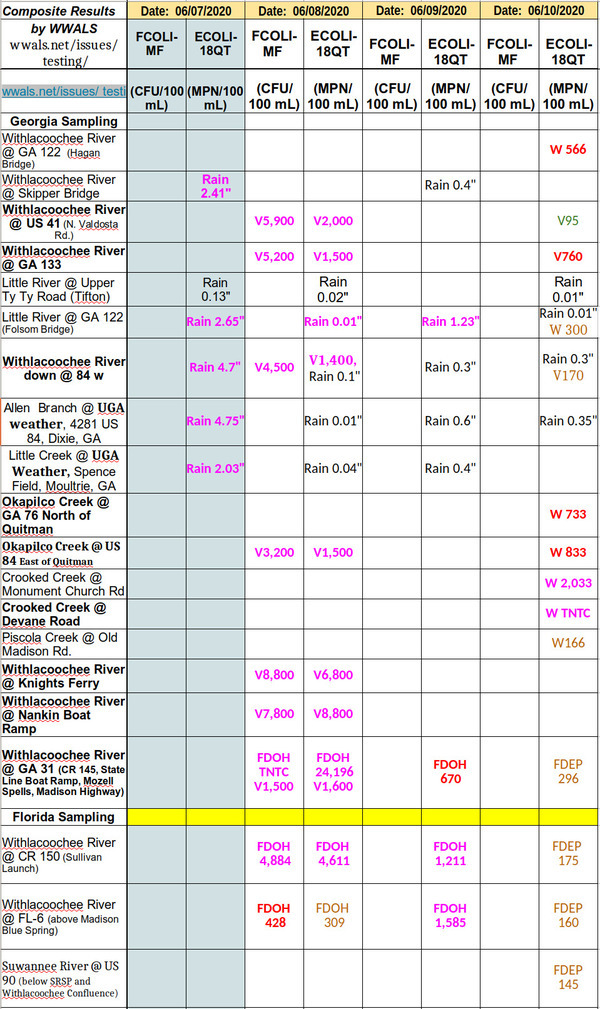 Withlacoochee R. @ GA 122 to Suwannee R. @ US 90
For context and links to the WWALS composite spreadsheet and all its sources, see https://wwals.net/issues/testing/.
Thanks to the Florida Department of Environmental Protection (FDEP) for testing from GA 31 as far downstream as US 90.

Horn Bridge, GA 31, Withlacoochee River
But where did the contamination go? Did it get diluted? Or did it just wash farther downstream?

Map: Valdosta and Quitman, Withlacoochee River to Suwannee River
We don't know, because nobody tested farther downstream.
Floridians, maybe you'd like to ask your local and state elected officials and FDEP to fund and implement regular testing from the state line to the Gulf. If Valdosta, GA, can do it to the GA-FL line three times a week, Florida can take it from there.
Until we see Valdosta's Wednesday Knights Ferry and Nankin results, I'm leaving red for failed water quality all eight Withlacoochee River Boat Ramps and Launches in Swim Guide.

Swim Guide red from US 84 to Madison Boat Ramp
Wednesday I collected samples at seven locations, starting on GA 122 for the Withlacoochee River (Hagan Bridge) and the Little River (Folsom Bridge).
I did not go up GA 76 to the Little River at Cook County Boat Ramp, because I can only cram seven sets of PetriFilms into an incubator.
Before the rain, I got zero at Hagan Bridge, in the Withlacoochee River east of Hahira on GA 122. So this 566 cfu/100 mL E. coli is quite high for this location. See also What do these numbers mean?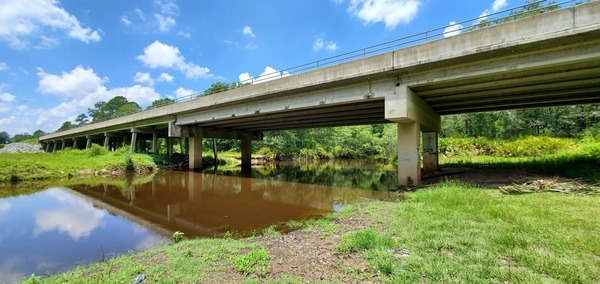 Withlacoochee River @ Hagan Bridge

566, Withlacoochee River @ Hagan Bridge (GA 122)
300 cfu/100 mL is higher than we would like, but still below the 410 one-time limit. Which is good, because several people were preparing to wade across the Little River, at Folsom Bridge west of Hahira on GA 122.

300, Little River @ Folsom Bridge (GA 122)
Somebody had recently put flowers at the Mary Turner sign, perhaps because of George Floyd.
See also Statement on Environmental Justice –Suwannee Riverkeeper for WWALS 2020-06-08.
This 733 cfu/100 mL E. coli on GA 76 northeast of Quitman is well above the 410 one-time limit.
These are just some of the many cows visible from public roads in Brooks County. These were in a pasture at the northwest corner of GA 76 and Okapilco Creek.
This 833 cfu/100 mL E. coli downstream on Okapilco Creek at US 84 east of Quitman is higher than upstream at GA 76.
Well above the 1,000 alert limit, is this 2,033 cfu/100 mL E. coli on Crooked Creek at Monument Church Road. Apparently it's also called McCracken Creek, because an early landowner was named McCracken.

Crooked Creek @ Monument Church Road

2,033, Crooked Creek @ Monument Church Road
Feel free to try to count the colonies on these slides. I call it TNTC, Too Numerous to Count, for Crooked Creek at Devane Road, which is just north of US 84. Crooked Creek crosses US 84 and joins Okapilco Creek downstream of US 84.

TNTC, Crooked Creek @ Devane Road
Devane Road has a nice tree canopy towards the bridge over Crooked Creek. But you probably don't want to get that water on you.
Piscola Creek comes down from west of Quitman to this bridge on Old Madison Road, south of Quitman, where this 166 is below the 410 one-time limit, although higher than the 126 longer average limit. Piscola Creek joins Okapilco Creek shortly before Okapilco Creek joins the Withlacoochee River. With low flow and relatively low E. coli, Piscola Creek does not seem to be contributing much contamination to the Withlacoochee River.

Piscola Creek @ Old Madison Road

166, Piscola Creek @ Old Madison Road
How can FDEP get such low results downstream with such high results upstream? There are several possible reasons, including:
Okapilco Creek has so much more water than Crooked Creek, and the Withlacoochee River even more, that the remaining contamination coming down Okapilco Creek is diluted by the time it reaches the state line. The relatively clean result on the Little River may mean Little River water is helping dilute the Withlacoochee River. That could explain how Valdosta got 760 at GA 133 on the Withlacoochee River above the Little River Confluence, and 170 at US 84 below it.
Maybe the contamination at GA 133 just hasn't reached US 84 yet.
Given there was a bit more rain on Brooks County Wednesday, it's also possible the latest contamination simply hasn't reached the state line yet. Valdosta's results for Knights Ferry and Nankin should give some insight into that.
We're leaving our yellow diamond Caution signs up at Nankin and State Line Boat Ramps for now. At Knights Ferry we will replant signs soon.

Nankin Boat Ramp, Withlacoochee River
Thanks to Valdosta PIO Ashlyn Johnson for sending the Valdosta results so far for Wednesday.
Thanks to Lowndes County Chairman Bill Slaughter, we also got the latest results from Lowndes County. However, Lowndes County is only testing monthly now, and their latest results were from May 27, 2020, well before the recent rains.
Lowndes County does not yet have any test results from their private contractor Lovell Engineering Associates (LEA) for the county's new IMPAIRED WATERS MONITORING AND IMPLEMENTATION PLAN. It seems rather odd that the tax-paying public can't yet see results from this tax-paid stream monitoring.
-jsq, John S. Quarterman, Suwannee RIVERKEEPER®
You can join this fun and work by becoming a WWALS member today!
Short Link: